The ultimate in luxury and style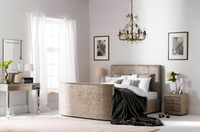 If you want to inject a little bit of luxury and style into your bedroom, then look no further than the divinely upholstered and uniquely styled Zinc bedstead, available exclusively from Dreams. Thier most luxurious bedstead to-date, this beautiful piece of furniture is not only sumptuous and stylish, but also very practical, because neatly concealed in the sleekly curved foot-end is a LG HD and Freeview ready LED TV.
This stunningly desirable bedstead has a generously padded headboard and cushioned frame, all upholstered in a sumptuous metallic-weave fabric which features rich tones of taupe, mink and silver, with the addition of subtle nickel and amethyst hues.
A touch of a cleverly concealed pewter button raises the TV from within the foot-end and to complete the transformation into the ultimate, deluxe digital entertainment spot, there's even a built-in shelf to house your DVD player, satellite box, or games console.
The Zinc bedstead is available in super king size at £3,499.
For more information, visit dreams.co.uk.