Beachside bedroom - summer lovin'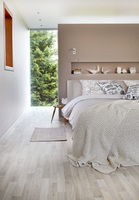 Summer is fast approaching - the hazy days filled with alfresco fun, and hot summer nights dreaming of our holidays. Create that beachside feel in a bedroom without breaking the bank with Rhinofloor.
Rhinofloor's wooden plank designs look like wooden flooring and even feel like wooden flooring, with a real grain effect. But, they don't have the price tag or the maintenance of a real wood floor.
Rhinofloor is durable, recyclable, guaranteed for up to 20 years and easy to clean. Ideal for family homes and well-used areas like halls, kitchens, bathrooms and playrooms.
Plus, it's incredibly easy to install - perfect for quick and easy room transformations.
There are six ranges of Rhinofloor designed to appeal to everyone; from five-star style and durability, through to value and budget conscious options. Prices start from £15.99 per square metre.
Rhinofloor is available from over 2,000 retailers across the UK. To find your nearest retailer, visit rhinofloor.net.