Get the art deco trend at home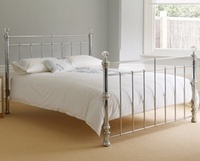 The 1920s may be big on the catwalk for this season, but the era never goes out of style when it comes to furniture. The art deco era spanned from the 20s through to the 30s and was heavily based on mathematical geometric shapes, and ornamental motifs.
A style that is frequently referenced in art, design, architecture and fashion, the glamour of this era is timeless.
To prove your good taste, add some art deco influence to your bedroom with a Dreams bed bedstead.
Crystal bedstead
Double, £999 (currently on offer for £399)
King size, £1,249 (currently on offer for £499)
The traditionally-styled metal frame has a shining chrome-plated finish for a light, sparkling look, accentuated by the elegant crystal-effect finials on top of the bed posts. Our Crystal is a high quality, attractive piece of furniture for your home. For a glamourous, classic bed, it is the ideal bridge between modern and traditional tastes.
Emyvale bedstead
Double, £419
King size, £439
The stunning Emyvale bedstead, has key art deco lines, and era-defining bronze finish to create a real statement piece. The gently curved header and footer are complemented by delicate pipework. Whether you favour bright colours and big patterns in your bedroom decor, or prefer understated minimalist styling, the clean, bold look of our Emyvale will complement.
Continue the art deco look with the mirrored bedroom furniture from the Dreams Vegas range, for a complete 20s look.
For more information, visit dreams.co.uk.