flydubai launches four-times weekly flights to Sana'a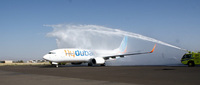 flydubai, Dubai's innovative low-cost airline, has inaugurated services to its latest destination Sana'a, the capital of Yemen, one of the oldest continuously inhabited cities in the world.
flydubai's inaugural flight, FZ091, departed Dubai Terminal 2 at 0700hrs (22 April), landing at El Rahaba Airport at 0840hrs local time. Representing its entry into Yemen, the new four-times weekly service brings flydubai's total operational network to 29 countries across the GCC, Middle East, Africa, Indian subcontinent, Asia and the fringes of Europe.
A delegation of Yemen state officials, including the Minister of Transport, Dr. Waed Abdulla Batheeb and the Chairman of Civil Aviation and Meteorology Authority, Hamed Faraj joined flydubai's Chief Commercial Officer, Hamad Obaidalla accompanied by the HE Abdulla Matar Al Mazroui, UAE Ambassador to Yemen to celebrate the occasion. The new route will boost business opportunities whilst providing travellers with a quality and affordable link to Sana'a.
flydubai's CEO, Ghaith Al Ghaith, said: "Since beginning operations in June 2009, flydubai has built up one of the industry's strongest regional networks. With the addition of Sana'a, we now fly to 20 destinations across 11 countries in the Middle East alone and I would like to personally thank everyone who has been involved in making our flights to Yemen a reality. flydubai hopes that this new service will play a significant role in developing business opportunites and open the door to more exports between the two nations."
Inaugurating the flight, Obaidalla said: "At flydubai, we aim to connect Dubai to destinations that have previously been under-served by links to the UAE and as such we are very excited about the new route to Sana'a, a city steeped in history."
Yemen's Minister of Transport, Dr. Waed Abdulla Batheeb, welcomed flydubai's first flight to the capital, commenting: "We are delighted to receive the low-cost carrier's inaugural flight here in Sana'a today. We are confident that flydubai's direct flights to our capital will boost relations between the two countries and create new areas of collaboration in the future."
In parallel to the launch of commercial passenger flights, flydubai now also offers cargo services between the cities through its recently-launched division, flydubai Cargo. With perishables anticipated to be its main consignment, flydubai's newest cargo route will strengthen trade links between Sana'a and Dubai.
Yemen's largest city, Sana'a is the country's political and administrative capital and most important cultural centre. Declared by UNESCO as a World Heritage Site in 1986, Sana'a is well known for its unique architecture that dates back over 2,000 years.
For more information, visit flydubai.com.