Devon Duvets launches the self-fill natural woollen pillow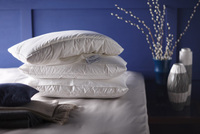 Devon Duvets has added a unique self-fill pillow design to its collection of British made natural woollen bedding and accessories. The Devon Duvets original pillow features 900 grams of wool to provide a soft/medium tension. For those who prefer a different feel, additional wool can be added or taken away, by hand and at home. Supremely comfortable, each pillow can be tailored to personal preference and contains pure-spun wool for natural bounce, encased in soft cotton.
Perfect Pillows
Also in Devon Duvets sumptuous collection of pillows is the folding pillow. A simple but innovative design, the two, three or four fold pillows can be folded into a cotton envelope to create a pillow that offers a tailored level of support.
All Devon Duvets pillows are hygienic and can easily be opened up to air or machine washed, ensuring that freshness is preserved for the entire life of the pillow.
Best British Wool
Independently assessed by the British Wool Marketing Board, only the finest, highest quality wool is graded 'Platinum Certified'. By using Platinum Certified British fleece wool, Devon Duvets ensures a naturally luxurious British product, which is both people and planet friendly.
A hypoallergenic fibre, wool is clean and healthy to sleep on. Naturally resistant to dust mites and common house insects it is also an ideal for choice for allergy suffers and those with skin irritations.
Devon Duvets pillows start from just £55 - For more information or to order, visit devonduvets.com.