Luxury bed-maker wins prestigious Queen's Award for Excellence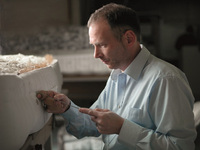 Devon-based Vi-Spring, renowned the world over for its handmade luxury beds, has been awarded the prestigious Queen's Award for Excellence. The British bed-maker has been recognised for producing bespoke beds of the highest quality, resulting in substantial growth in overseas sales. HM The Queen marked Vi-Spring's success in her birthday honours on 21 April 2012.
Vi-Spring's Managing Director, Mike Meehan, says: "We are very proud of our product and extremely honoured to receive this coveted award. Our reputation for luxury bed design spans more than 110 years, having been the first to create the pocket sprung mattress. We believe that key to our ongoing success is our determination to avoid mass production techniques, combined with our commitment to using only the very best materials. In this way, our skilled craftsmen, based in our Devon workshop, produce a truly wonderful product that is loved throughout the world."
Central to the signature comfort of Vi-Spring beds is the blend of quality, natural materials used to fill and cover each one; from soft cashmere and mohair to exclusive real Shetland wool. Each mattress is side stitched by hand, a process which takes up to eight hours.
A key ingredient in Vi-Spring beds is pure British fleece wool; in fact Vi-Spring uses more British wool than any other bed maker. Ideal for use in bed-making, wool naturally provides softness, warmth and bounce. The company is particularly proud to have exclusive use of Real Shetland wool. Through its commitment to using British wool, Vi-Spring supports the campaign for Wool and local crofters in the Shetland Isles, helping to rejuvenate Shetland's precious wool industry.
Meehan concludes: "We are truly delighted to be recognised by the Queen for our product and will continue to employ the care, attention and skills into bed making that have helped us to win this award and take our place as a British manufacturer on the global design stage."
For more information, visit vispring.co.uk.