Beko launch range of premium appliances exclusive to John Lewis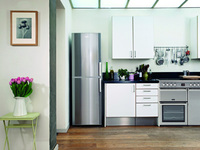 Beko, UK refrigeration, washing machine and cooking manufacturer has teamed up with John Lewis, 'Britain's favourite retailer 2010, to launch a brand new collection of premium home appliances.
This brand new suite of products, exclusive to John Lewis, includes two washing machines, two tumble dryers, a dishwasher and five cooling products - all designed to look great in your kitchen and make life easier. Feature highlights include easy-to-clean stainless steel effect finish, large capacity appliances and Beko's unique full-load 'Quick Wash' faster washing and drying cycles - all to save you time, money and energy.
If you realise that your favourite frock is at the bottom of the pile just hours before you want to wear it, the 7kg WM7043CW includes a nifty half load cycle wash programme which can complete 2kg of lightly soiled laundry - that's 10 men's shirts in just 14 minutes.
Put your trust in the WM8063CW washing machine. With its huge 8kg load capacity that can tackle masses of washing in one go and extra-large chrome porthole door making it easier to load and unload, the overflowing laundry basket will seem less daunting as it easily fits the equivalent of four entire linen sets (four double duvet covers, four double fitted sheets and 16 pillow cases). Even more impressive is that this 8kg full load can be washed within 39 minutes thanks to Beko's unique full-load 'Quick Wash' function.
When April showers prevent you from hanging your wet washing on the line, get your outfit dry and ready to wear in time, with the new Beko DC7041W condenser dryer which has an 'Xpress cycle' that dries 10 men's shirts in only 35 minutes.
The rising cost of energy bills is a concern for many people. The clever A-30% energy rated DP8045CW heat pump condenser tumble dryer intuitively senses how much energy is required for each load and automatically stops when complete. This new technology uses half the energy of a standard C rated model and will help to keep energy costs down too.
Cooking ahead and storing food in the freezer is a great way to cut down on food waste. The TZ6051W 60cm tall freezer is perfect as it has an impressive six separate food storage compartments, perfect for housing those supermarket multi-buy deals. It also has Beko's unique 'Freezer Guard' which means it is ideal for colder places or outbuildings if space in the kitchen is limited. To partner the freezer is the TL6051W 60cm tall fridge, a large capacity interior with four adjustable glass shelves and a full width salad crisper helping fresh fruit and vegetables to stay firmer for longer.
Buying in bulk is a great way to save money on your families' food bill but you'll need a large fridge-freezer to accommodate all the extra grocery shopping. The Beko premium collection of large combi fridge-freezers will fit the bill. In addition, the 55cm wide FFD5582W has a stored water dispenser for chilled water on tap and Beko's 'Freezer Guard' protection for cold which means the freezer continues to work even in temperatures down to -15?C.
The FS5552W is A+ energy rated and includes a stylish chrome wine and bottle rack, great for chilling your Chardonnay or just storing those bottles of pop conveniently out of the way. The taller (191cm) FF6091X comes in easy-to-clean stainless steel effect finish to keep it looking great, despite the best efforts of sticky little hands.
Everybody loves a home cooked meal, except for the washing up. Why not let the Beko DW80323W dishwasher take care of it for you? This spacious model is ideal for those who entertain at home - the additional third drawer makes it easier to load and provides better drying. The height adjustable upper basket and sliding cutlery basket allow for an impressive 13 place setting capacity, accommodating all your crockery, pots and pans in one go. 20% more energy efficient than A rated dishwasher, it has an extremely low 10 litre water consumption, so the impact on your energy bills and the environment will be the impressive talking point at all your dinner parties and not the washing up.
This range of 10 premium products has been designed by Beko exclusively for John Lewis. The five cooling appliances, two washing machines, two tumble dryers and one dishwasher will be available in John Lewis department stores nationwide from April and online too at johnlewis.com. Prices start from only £289.99.
Look out for the popular 'Baby Billy' Beko family size washing machine TV ad, which is back on screens now to coincide with the launch of the new range at John Lewis.