Homeowners aspire to hotel style bathrooms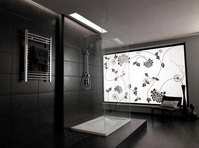 A new study shows that homeowners are increasingly looking to replicate the hotel bathrooms style in their own homes; the desire for a clean, uncluttered space with soft fluffy towels and powerful shower is timeless.

Mira Showers is on hand to help to turn these dreams into an affordable reality with its range of products that merge technology and practicality with sophistication and luxury.

The wet room is the ultimate indulgent bathroom feature but the time and cost to tank a bathroom can put many off. Mira Showers has created the Flight Low, a low profile show tray with cutting edge technology in the waste system to ensure it doesn't overflow, providing an ultra-modern wet-room look for every day indulgence and escapism.
Another key way to recreate the glamour of a hotel bathroom is a fixed deluge head. The Miniluxe with Diverter, is the latest addition to Mira's high performing mini mixers range meaning this stylish shower can even fit into smaller showering spaces with the flexibility of a separate handset. With 81% of people still wanting their luxury bathroom spaces to work for the whole family* it's the perfect choice.
As a stylish alternative, Mira Vision incorporates all the key features of a digital shower with a new sleek lozenge wireless controller. Turn on the shower remotely from a different room; wait for it to heat up to the desired and programmed temperature, the shower will then pause ready to be reactivated as you step inside. You also have the option of additional wireless controllers elsewhere in the house to activate the shower and make full use of the warm up and pause function.

For more information or to find your nearest stockist visit mirashowers.co.uk.