Tom Forrest's guide to tasting Europe's finest wines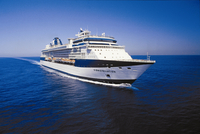 According to new research by premium cruise line Celebrity Cruises, Brits' top locations for enjoying a drink are either, 'on holiday' or 'in the garden', suggesting that sunshine is the ultimate accompaniment to a tipple. Where better to test that theory than on a cruise to the best European wine regions, sipping wine in the sun and learning all about it from the experts?
Celebrity Cruises has partnered with Vinopolis and Oz Clarke for a special sailing on 13th October 2012. Departing directly from Southampton the programme includes on board activities and expert led-sessions, such as introductions to wine tasting, meet and greet sessions and wine masterclasses from the key regions visited. All bespoke sessions are hosted by either Oz Clarke, Tom Forrest, or both, and are informal, fun introductions to the world of wines.
Tom Forrest, the resident wine expert at Vinopolis, offers an insight into what to expect from a couple of the wines that originate in some of the key regions visited on the cruise:
Bordeaux – Chateau Carbonnieux
"Bordeaux is a great region in the South West of France that has a fine affinity with the wine lovers of Great Britain. Most people think of Bordeaux as a red wine producing region, but actually it produces some fine white wines as well."
"The Chateau Carbonnieux is a dry white wine made from Sauvignon blanc, Semillion and Muscadel grape varieties. The wine has a lovely golden hue to it and, when you smell it, there are the beginnings of an oak note coming through. This wine has been fermented in stainless steel, but has been matured for about 9 months in oak barrels."
"On the palette, this wine is quite light. The Sauvignon blanc gives a zing, but that zing is muted by the use of the Semillion and the oak, and you end up with a nice creamy mix. As such, this wine will go really well with seafood, but don't be frightened to explore the idea of having it with white meat or even poultry because that oak and the creaminess gives it enough body."
Bilbao – Marques de Riscal, Baron de Chirel
"This wine is made in the Rioja region of Northern Spain by one of the oldest Rioja bodegas in existence: Marques de Riscal. When you visit the winery – although it is one of the oldest wineries in existence – it is actually one of the most modern looking wineries you could see."
"The Baron de Chirel is pretty much a pure Tempranillo, which is the finest Rioja grape variety. The wine itself is full of the aromas of dark cherries, tobacco and a little bit of coconut. Running through this, not only do you get the flavours of dark cherries, the flavours of that coconut, the gentle spices that come from the American oak barrels, you also get a cool mintiness running through the whole thing."
"This is an absolutely gorgeous drink that you could sit and drink as a glass of wine on its own. Alternatively, some nice roast beef, cheeses, or even something slightly spicy would go really well with this wine."
For more information on the Vinopolis cruise with Celebrity Cruises and Oz Clarke, visit celebritycruises.co.uk.