Kick-off summer evenings in London 2012 at Bar Boulud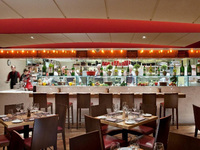 With an exciting line-up of events taking place in the capital, Bar Boulud, London is offering a tasty Pre-Game Bar Snack Menu to kick-off the summer. With non-stop sports, theatre and music on the menu this summer in Hyde Park, Bar Boulud is serving the ideal snacks in the heart of the action.
Located within Mandarin Oriental Hyde Park in the heart of fashionable Knightsbridge, the new Pre-Game menu will be available all day in the Bar and Lounge at Bar Boulud, starting from Monday 16 July until 12 August 2012, for hotel guests and London locals alike.
With dishes starting from £5, the Pre-Game menu includes: house-made Hot Dog , served in a brioche bun with traditional garnish (£5.00); fried buffalo mozzarella wrapped in iberico ham with tomato confit (£7.50); mini lobster rolls (£9.50); spinach and artichoke dip with tortilla crisps (£5.00); pulled pork "slider" with cabbage slaw jalapeño mayonnaise in a cheddar bun (£6.50). As an excellent accompaniment, Bar Boulud offers a full range of rare draught and bottled beers from small, artisanal producers as well as an impressive selection of wines, by the glass and by the bottle. Serving great wine by the glass from rare large format bottles is a Boulud trademark, and Head Sommelier David Varielle will be opening a selection of special wines throughout the season.
With a sleek open kitchen which enables guests to catch a glimpse of the excitement of the chefs at work, Bar Boulud continues to delight guests with its buzzing ambiance and the restaurant has consolidated its reputation as one of London's most popular dining hotspots.
Bar Boulud, London is open from 12pm to 1am Monday to Saturday and from 12pm to 12am Sunday for Lunch and Dinner. Reservations for Bar Boulud can be made at danielnyc.com/barbouludLondon.html. For further information, visit mandarinoriental.com/london/dining/.
About Bar Boulud
Sister restaurant to the popular New York City outpost, Bar Boulud London at Mandarin Oriental Hyde Park enjoys its own entrance on Knightsbridge. The seasonal bistro menu includes an impressive selection of house made terrines and pâtés served from a Charcuterie Counter, as well as a handful of signature sausages and burgers, adding an American touch to this French inflected bistro and wine bar. The Adam Tihany designed interiors are inspired by a contemporary take on the craft of wine making with a sleek open kitchen, vaulted ceilings, oak panelling, deep red leather banquettes and a zinc topped bar. The wine list focuses on Burgundy and the Rhone Valley, including many fine selections by the glass, as well as a wide array of draught and bottled beers.
About Mandarin Oriental Hyde Park, London
With bustling Knightsbridge on its doorstep and leafy Hyde Park at its rear, Mandarin Oriental Hyde Park is London's most prestigious address. Blending sumptuous guestrooms with a world-leading spa and a stylish bar, it is the definitive destination for a luxury escape. And with two award-winning restaurants including Bar Boulud, London and Dinner by Heston Blumenthal, the first London restaurant for one of the UK's most renowned chefs, Mandarin Oriental Hyde Park stands at the culinary centre of the capital.