Redesign of an Icon: Mateus Rose Original 1942-2012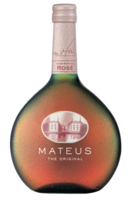 This year marks the 70th anniversary of Mateus Rose Original and to celebrate, its iconic bottle has been redesigned and for the first time will only be available in screw cap closure in the UK.
This world famous rose in its distinctively shaped bottle has been visually revitalised. With a radical colour change to subtle tones of pink that hint at the contents, a contemporary image of the Mateus Palace, and an updated logo to make a cleaner, clearer statement on the bottle, Mateus Rose Original is refreshed and ready to be the taste of 2012.
Its loyal consumers in over 125 countries around the world will be thrilled to know that the delicious wine inside the famous bottle hasn't changed. Mateus Rose Original is still made exclusively from Portuguese red-grape varieties like Baga, Rufete, Tinta Barroca and Touriga Franca, with the same vinification process involving a long period of fermentation at a highly controlled temperature, which gives it that distinct pink colour and soft, fruity taste.
Introduced to the UK in the 50s, the iconic Mateus bottled created in 1942 was inspired by the water flasks used by soldiers in the First World War and still remains unique today. So raise your glass to celebrate a true great this summer with Mateus Rose Original - available from all good stores and off licences at RRP £5.49.