Gibraltar abolishes import duty for yachts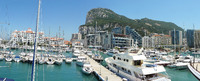 On Monday 9 July, Fabian Picardo delivered his first Budget as Chief Minister of Gibraltar. Amongst the good news in his leather "Budget Box" was the abolition of import duty for vessels over 18 metres in length and a reduction from 12% to 6% for vessels under 18 metres. The move is expected to stimulate growth in the superyacht sector and encourage longer-term berthing in marinas such as Gibraltar's flagship Ocean Village.
Under pre-Budget legislation, vessels were classed by gross tonnage with those less than 80 gross tons liable to pay import duty at the rate of 12% whilst vessels above 80 gross tons were not liable to pay import duty at all - this meant that the leisure boater lost out. But with this latest move berthing in Gibraltar now offers them a great advantage. Moreover the change in vessel classification from tonnage to metres is conceptually easy to explain, and therefore market Gibraltar as a berthing destination, at the same time as bringing the Rock in line with methods used by most of its European counterparts.
Speaking from Ocean Village, Business Development Manager, Ros Astengo said, "Due to our strategic location at the gateway between the Mediterranean and Atlantic, we have always attracted an endless stream of superyachts but they spend limited time in Gibraltar. By reducing the duty and exempting it above 18 metres, the Government is sending a clear message that there is no longer an incentive for resident vessel owners to keep their yachts outside Gibraltar. And, if Gibraltar attracts even just a small percentage of the long-term berthing required by the superyacht sector, we will receive economic stimulus in a sector that, despite competitively priced berths, tax-free fuel and Cat 1 Red Ensign Group status, remains relatively untapped."

Especially in the case of superyachts, the ancillary benefit to Gibraltar for every extra night's stay is substantial. These lavish vessels have large crews who require land-based services alongside the not insignificant requirements of provisioning and refuelling – the latter being something Gibraltar is already hugely popular for. With longer-term berthing comes greater demand for bars, restaurants, leisure facilities, chandleries, spare parts, lift-out, maintenance, cleaning, crew training, safety equipment and so on – economic activity that Gibraltar would welcome.
Albert Mena, Tax Partner at Hassans, the largest law firm in Gibraltar, comments, "Import duty on vessels is only triggered upon the actual importation of the vessel into Gibraltar. This means that, in practice, any Gibraltar resident can own and use a vessel and not be liable to pay any import duty - so long as the vessel is kept away and never imported into Gibraltar. The very nature of our importation laws dissuaded resident vessels owners, including high net worth individuals, from importing and berthing their vessels in Gibraltar, the new budget measures should attract these vessels to Gibraltar."
In welcoming the Budget news Albert continues, "This change should assist to market Gibraltar in a sector where there is potential for growth. This coupled with the other changes announced in import duty should encourage the further development of a competitive and thriving marine service and retail industry in Gibraltar, together with all the associated positive benefits."
Meanwhile, across the border in Spain, the yachting industry continues to conduct its long battle against the 12% matriculation tax that the Spanish authorities have applied to the first definitive registration of recreational boats more than eight metres in length. This tax does not apply in any other EU country and, with VAT (IVA) at 18%, this means that buyers of moderate to large yachts face a surcharge of nearly a third of the retail price. Ironically, by collecting the tax, Spain has missed out on hundreds of millions of potential income through marina revenue and retail spending that would have been generated by those boats who have now been deterred from operating in Spanish waters. With the abolition of superyacht import duty, Gibraltar will emerge as a strong alternative.
For berthing or any information on Ocean Village marina, visit oceanvillage.gi.
To contact Hassans, a world-leading independent international law firm, visit gibraltarlaw.com.