Impromptu address for Gibraltar at World Trade Center event in Sao Paulo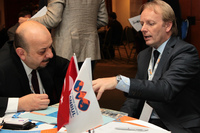 Billed as "the most member-driven General Assembly event" in the Association's history, Gibraltar delegate, Brian Stevendale, recently joined 260 more representatives from 100 World Trade Centers across the globe at the annual General Assembly held in Sao Paolo, Brazil from 9 to 12 October 2011.
Having officially unveiled Gibraltar's World Trade Center (WTC) proposition in March of this year at "the world's premier real estate event for professionals", MIPIM 2011 in Cannes, newcomer Gibraltar was fresh in the global organisation's mind. Board Member Rolf Draak from WTC Nice took the opportunity to invite Brian Stevendale to the stage to inform delegates of Gibraltar's plans.
Brian Stevendale, World Trade Center Gibraltar's (WTCG) Business and Development Director, explains, "With Gibraltar now part of the WTC family, the world's signature address if you are in business, it gives us vast opportunities to forge cross-border partnerships. We certainly raised the profile of the territory on a global stage to representatives of national governments and over one million companies. Rolf Draak had been impressed with our initiative to use MIPIM as a resource to launch WTCG and generously invited me to talk on the subject. It was a privilege to spend 20 minutes addressing the entire General Assembly on Gibraltar's behalf, highlighting our unique attributes from tax efficiency to strategic geography, Mediterranean lifestyle to and economic stability, and to place Gibraltar under a significant global spotlight."
About WTC Gibraltar
Gibraltar's application to establish a World Trade Center (WTC) was approved by the World Trade Centers Association (WTCA) at the conclusion of its Annual General Assembly in Beijing, China, in October of 2010. This gave Gibraltar the 335th licence to be awarded across the globe to develop international trade. Established in 1970 to facilitate international trade, the WTC puts all services associated with global commerce under one roof and then fosters cooperation between them. The presence of a World Trade Centre significantly raises the profile of the location in which it sits and, thanks to a worldwide alliance, opens up local businesses to a world of interconnections opportunity.
With outline planning permission already in place, the seven-storey 170,000ft² WTC Gibraltar building will effectively treble the office space already sold or leased at the Ocean Village development. Some floor areas will spread over 30,000ft², the largest available in the jurisdiction. Pure office space aside, the prestigious superstructure will also include business club executive lounges with dining facilities, secretarial services, year-round exhibition and display areas, virtual offices, state-of-the-art video conferencing and telecommunications, high speed lifts, climate control, electronic security access and CCTV as well as ample parking.
For more information, visit worldtradecenter.gi.