Record-breaking Arctic explorer becomes temporary "Snowbird" in Gibraltar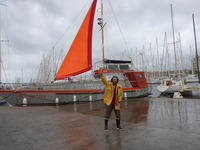 Gibraltar may be teetering on the brink of winter but one man who won't be reaching for his fleece in Ocean Village this week is long-time Arctic explorer Gilles Elkaim who just sailed in on his expedition boat, Arktika. Base camp for Gilles is some 300km north of the Arctic Circle in Finland where he will shortly be returning to run his popular human-canine adventure camp in sub zero temperatures.
The Brittany-born adventurer, a Nuclear Physicist, had his first Inuit experience at the tender age of 24 when he spent a year in Greenland learning how to hunt on the ice, to sled dogs and also speak the unusual Greenlandic language. Followed more than a decade of epic adventure sailing round Australia, trail walking across New Zealand, climbing mountain peaks in Papua New Guinea, cycling across India, camel riding through Mongolia and, a highlight, a four-year 12,000km solo dog sled and kayak from Norway's North Cape across the Bering Strait and Eurasian Arctic – breaking records as the first ever using non-motorised transport.
Gilles explains his latest venture, "Our home, Camp Arktika, is spread over three acres of Finnish Lapland where we run and breed many endangered species of sled dogs. By adding various outbuildings to the estate, we now host camps for groups of half a dozen or so guests to introduce them to Arctic adventure. We work at one with nature, far away from any tourist trails, and I teach them survival skills to enjoy this savage, yet beautiful territory. This new expedition boat, Arktika, will add another dimension to our adventure camps and allow us to navigate the Arctic Seas in safety and relative comfort."
Very sturdy with a thick aluminium hull, Arktika is a 47ft Voyager constructed in France in 1984. Since April this year, Gilles has spent six months completely refitting and refurbishing the boat to make her fit for Arctic exploration.
Gilles continues, "We are currently en-route from Toulon, close to Marseille on the southeast French coastline, to La Rochelle on the west. Heavy storms in the Mediterranean hampered progress somewhat so we spied the beautiful marina of Ocean Village in Gibraltar and came in for a refuel. Due to the warm welcome received, we have decided to keep Arktika here on a safe berth until mid-December when we will continue to La Rochelle. In Spring we will complete the final leg of the journey up to east Greenland."
Once Arktika is settled in the Arctic, Gilles will begin to conduct sailing tours of up to a fortnight with four or five people and a small team of huskies on board.
Gilles finishes, "All our guests are just normal people who are looking for new experiences, a different perspective on life. They're getting younger every year and now tend to range between 25 and 40 years old, although it's not unusual to welcome 60 year olds. Most are first-timers to the Arctic, excited to be working self-sufficiently and at one with nature and we all share the same sense of adventure as each exploration is a reconnaissance mission – I don't plan and map it all out."
Whilst Arktika may not be the most beautiful or jaw-droppingly expensive boat Ocean Village has ever seen, she certainly comes with one of the best stories attached and will undoubtedly be at the heart of many more to come.
For further information on booking a berth at Ocean Village marina, visit oceanvillage.gi/marina. To find out more about Camp Arktika visit camp-arktika.org.