easyJet ups flight frequency to Gibraltar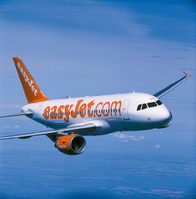 This week low-cost airline easyJet strengthened its commitment to Gibraltar by adding four extra weekly flights to its London Gatwick service. Scheduled to begin next summer, the airline will now operate 11 flights a week to this London airport.
Brian Stevendale, Business and Development Director for Gibraltar's most prominent mixed-use marina resort, Ocean Village, says, "This move by easyJet makes good sense as Gibraltar rises in stature as a destination for both leisure and business travellers. The economy is thriving, particularly in the sectors of financial services and gaming, which creates increased demand for business travel, and tourist arrivals are now in excess of ten million each year. When our planned World Trade Center located adjacent to the Ocean Village site is inaugurated, easyJet, and indeed the other airlines serving Gibraltar, may want to revise their schedules upwards yet again."
Paul Simmons, easyJet's UK Director, was interviewed on Radio Gibraltar on Thursday and said that whilst easyJet had delivered a Gibraltar to London Gatwick service ever since they purchased GB Airways back in 2008, it had got to a level where demand was outweighing supply and the four new weekly flights had become necessary.
Simmons stated that there was a good possibility that the additional service would be extended from summer into the winter season as he believed that the route would be a success. With 20 bases across Europe, easyJet finds it very straightforward to turn on additional flights as soon as they see clear demand.
Simmons added that the target "load factor" for Gibraltar to London Gatwick was 80 to 85% of the 156 seat Airbus A319-100. He believed that easyJet could achieve this load factor throughout the summer and "wouldn't be doing it if they didn't think it would work".
The news coincides with the opening of Gibraltar's iconic new £50 million aircraft terminal to the public from 3 November. With building works almost complete, a period of staff training and testing of operating systems and equipment takes place prior to the terminal becoming a security restricted zone in accordance with EU aviation regulations – this window allows for public viewings by way of guided tours from 3 to 8 November. The Government is expected to release a statement shortly on the terminal's official opening, predicted for the first half of 2012.
As part of the commitments entered into with Spain as a result of the 2006 Cordoba Agreement, the terminal building will have direct access onto Spain although this part of the terminal is incomplete as Spanish authorities delay the building of their installations. easyJet's Simmons noted that their Basel Airport base granted access to Switzerland, Germany and France without customs or border restrictions and it made for very easy travel. He believed that the new Gibraltar terminal was a "right size" terminal which would serve the passenger well in this modern era and give the Rock a boost – even more so when the Spain-side entrance was operational.
easyJet joins bmibaby, British Airways and Monarch who operate services to Gibraltar out of East Midlands, London Heathrow, Liverpool, London Gatwick, London Luton and Manchester between them.
For information on marina berths and residential real estate contact Ocean Village, visit oceanvillage.gi.