Store and order - Caple's WF1544 freestanding wine cabinet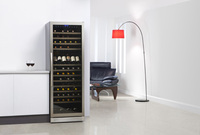 The single zone freestanding WF1544 wine cabinet, from leading appliance specialist Caple, holds an impressive 155 Bordeaux-style wine bottles behind a stainless steel-framed glass door, making it the perfect choice for wine lovers and a stylish finishing touch in the kitchen.
Featuring Caple's renowned state-of-the-art technology and expert craftsmanship, the WF1544 lets you set your cabinet to the exact temperature you need to make sure your wine is stored at its optimum storing level.
Caple Sales Director, Danny Lays, says: "Homeowners are becoming more savvy as many now realise that a chiller is not able to store wine properly so they are looking for the real thing - a wine cabinet, which gives you absolute control of the temperature, regardless of the weather, so you can feel safe in the knowledge that your wine is being stored in perfect conditions and will retain all its complex flavour.
"This wine cabinet operates quietly at 45dB and comes with all its shelves already fitted so there's no need to pay for additional ones to make your cabinet complete. One of the benefits of a freestanding version is that you can take it with you if you move home or alter its position if the mood takes you."
Ultraviolet light causes wine to age prematurely so all of Caple wine cabinet doors feature UV-protected glass and the LED lighting inside is completely UV-free.
No-frost cooling systems and heaters with fan-circulated air across Caple's entire collection maintain a steady temperature and humidity level to keep your wine in perfect condition.
The WF1544 freestanding wine cabinet measures 595mmW by 680mmD by 1760mmH and is priced from around £1,358 inclusive of VAT.
For more information, visit caple.co.uk.