Beko white glass built-in oven and hob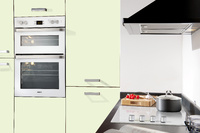 Get the heat on in your kitchen with the arrival of the new white built-in oven and hob from Beko. These incredible new sophisticated cooking appliances will lead to you wanting to spend even more time in your kitchen – go on let loose the culinary chef hidden inside!
Arguably the most important built-in appliance in your kitchen, Beko has designed its amazing new white collection with the keen cook in mind. The chic glossy white ceramic glass hob (HIC64105) has cool contemporary metal effect side control knobs and offers four cooking zones in two sizes that each have six power levels giving cooks the ultimate control. Simple but elegant, cleaning the smooth white glass hob surface is effortless.
With Which? magazine reporting that around 90% of new homes now have a built-in oven and hob, if you're considering designing a new kitchen or simply up-dating your old one, a built-in electric oven will offer a premium yet discreet look. The 90cm Beko DBDF243WG double oven is white with a fabulous high gloss finish. It has a generous 100 litre capacity to accommodate larger roasting tins and boasts 'Easy Clean' double glazed full glass doors meaning that just like the hob, cleaning is easy.
As with any Beko appliance the fully programmable timer doesn't come with unnecessary functions and jargon that you'll never understand, let alone use. Designed for your ease, the bottom oven has two handy functions; fan and defrost, and the top oven has four operating modes including a combination of top and bottom heater and full width variable grill. Its AA energy rated on both the top and bottom ovens, making it 20% more energy efficient than a standard A class oven, helping to reduce your energy bills. For peace of mind all Beko built-in and integrated appliances comes with two year warranty.
Visit beko.co.uk for more information.