Pure white quartz worktop from Okite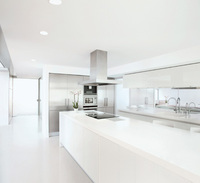 Offering timeless elegance combined with maximum durability, the new Bianco Assuluto pure white quartz worktop from leading Italian manufacturer Okite will make a lasting impression in any kitchen setting.
Colour trends may come and go, but white is a classic that simply never ages. Not only does Okite's Bianco Assuluto help to create the feeling of space and cleanliness, it also makes a striking impression when combined with the latest contemporary materials and finishes such as high gloss, glass and stainless steel.
As well as looking the part, Bianco Assuluto will also withstand the general wear and tear of life in the busy family kitchen. Made from quartz composite, the worktop is more durable and scratch and stain resistant than natural materials such as granite and marble and as well as being non absorbent it can withstand short-term exposure to hot elements such as pots and pans.
This hardwearing worksurface doesn't require any special maintenance or harsh cleaning agents; simply wipe clean to keep it looking as good as new.
For a seamless look, Bianco Assuluto can also be used as a splash back in the place of tiles, making a stunning yet highly practical backdrop to the food preparation area.
Okite's Bianco Assuluto is available in slabs measuring 306cm x 140cm and in 20mm, 30mm or 50mm thicknesses, with a polished finish. It can also be customised to fit any project. Prices start from around £300 per linear metre. For Okite stockists, visit okite.com.