Luxury bed sheets soar as Britian battles recession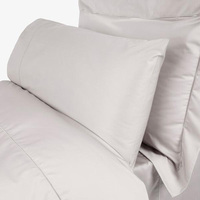 Critics who claim that British people always take bad news lying down have finally been proved right as sales of luxury bed linen have soared since the recession began, says high street store Debenhams.
Demand for top-of-the-range, super soft, luxury bedding has risen by a colossal 35 per cent in the last four years.
Said Debenhams Head of Home Buying Alice Duggan; "Britain has always had a reputation as a laid back society.
When times are tough in the bank board room, it seems that more people want to make sure that everything is perfect in the bedroom. Things always look better after a good night's sleep.
We may even send a set to Sir Mervyn King, free of charge, to help him get a good night's sleep too."
Luxurious, sensuous, cotton sheets are most in demand, even though they can cost almost three times the £12 price of a standard Debenhams white bed sheet.
Customers are opting for those with a 500 cotton thread count. Five times the usual number are buying these sheets, producing a light, slinky feeling against the skin.
Sheets and duvets for double and king sized beds are outselling those for single beds, showing the economic squeeze in the work place is being counteracted by more space in the bedroom.
Alice Duggan continues: "Slipping between sheets of luxury cotton is a breath taking experience.
"They're cool, and light and wrap around your body, almost like a second skin. Using a fabric softener during each wash also gives them added softness and a delicate fragrance, which makes curling up and going to sleep such a pleasure."
Debenhams luxury Supima bed linen starts from £26.