Brabantia announces 2012 'Design Your Bin' winners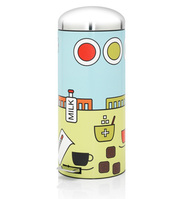 Leading housewares brand Brabantia, world renowned for bringing stylish design to all aspects of kitchen and homeware, is delighted to announce two 'Design Your Bin' competition winners who have created new designs for its 2013 Retro Bin range.
The 'Design Your Bin' competition was launched in April and received 1,033 designs from all over the world from Belgium to Brazil, China to Chile, and the Netherlands to New Zealand.
Brabantia's Communication Manager Anne Slaats said: "The entries this year were incredibly creative and inspirational. Deciding on just one winner was almost impossible, so we selected two, Pop Kitchen and Kitchen Collage! It's important for us to offer consumers the chance to design ideas for future products. We've now got two new eye catching designs and are very excited about seeing them go into production next year."
As well as getting to see their design produced and on sale as part of Brabantia's range in 2013, the overall winners selected by its International Design Panel also received a bin featuring their design and 1,500 Euros worth of Brabantia products.
Anne continued: "This year we were also very privileged to have had expert design advice from top industry bloggers who formed part of the International Design Panel and helped the Brabantia team shortlist the winners."
UK-based Dominic Marshall from Staffordshire is the winning designer behind Pop Kitchen. Dominic trained as a ceramic designer and now works as a freelance surface pattern designer. He also lectures at Staffordshire University on the Surface Pattern degree course.
He said: "On a personal level, it's great to get recognition for my work. The graphic style of Pop Kitchen is very much inspired by pop art and artists like Patrick Caulfield and Pete Fowler. It is a celebration of ordinary household objects, interior space and colour, taking lots of influence from patterns by designers like Charles & Ray Eames and Lucienne Day."
The second winning design by Kate Yorke from Derbyshire is Kitchen Collage, a pretty patchwork of patterns, creating a truly unique bin design that's slightly nostalgic with a contemporary twist. Trained in surface pattern and textile design, Kate recently set up her own business, Emily Pickle, named after her five-year-old daughter, producing fabrics, greeting cards and prints.
Kate said: "Seeing my design go into production is really exciting! My design was inspired by items you might find in most kitchens: kettles, cups and pans. I wanted it to look like shelves, so you see a different part of the design from every angle. I have my prototype at home and keep having to check it's real! I am so pleased with the way the design looks on the actual bin and am really looking forward to seeing it on sale."
The runner up, 'Most Popular Design', as voted by the public, was the striking green and yellow Daizies design from UK contestant Terence Southwell from the West Midlands, who won Brabantia products worth 1,000 Euros.
The designs will be in store from April 2013. Other Brabantia products are available from leading retailers, including high street department stores, superstores, quality independent housewares and kitchen product specialists.
For details, visit brabantia.com.