A kitchen fit for Christmas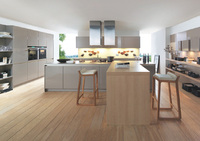 Christmas is the time that puts any kitchen range to the test and design flaws become painfully apparent. With relatives descending and more people in the house than at almost any other time of year, anyone who spends more than a few minutes in the kitchen will wish that they had a space that works as hard as they do.
With the supermarket shelves already filling with festive merchandise, those that want to have a new kitchen installed by Christmas need to crack on. Wayne Dance, Managing Director at InHouse, uses his experience of working with leading German manufacturer Schüller to offer some great tips on how to get your kitchen fitted by Christmas.
"The most important advice is simply - don't panic" says Dance, "A great kitchen needs to work hard for many Christmases so getting the design right now will avoid your new kitchen being the biggest turkey served this Christmas."
It's a misconception that the best place to get a quick kitchen design is from a large DIY store. When planning in a small time frame there is no margin for error, so it's crucial to get every stage spot on. The high street retailer is often far cheaper than you imagine and by working with companies such as Schüller, the final design will meet your specific needs with every cabinet and worktop manufactured individually. When it comes to installation you can be certain that the kitchen will be an effortless fit.
Fitting a new kitchen can be challenging at anytime of year but Christmas is the time to mitigate potential stress by a one stop approach and delegating to those that can take charge. The independent retailer will have good relationships with appliance suppliers and can take charge of order, installation and delivery - often at less cost. If you pick the right retailer then you shouldn't have to leave the shop when choosing sinks, taps and lighting. Delivery is equally important and the run up to Christmas is not the time to be fretting over reliability of third party couriers. Choosing a company such as Schüller, with its own dedicated manufacture and delivery service will prevent your cabinetry being stuck in a pre-Christmas backlog.
"Coordinating different trades to help you is never easy, and the lead up to Christmas is a recipe for disaster," says Dance. "Christmas is one of the most stressful times of year so the best option is to hand over the entire job to a reputable independent kitchen retailer. With expertise and experience, they won't be fazed by late installation. Juggling the build up to Christmas whilst managing a kitchen refit amounts can amount to high stress levels for those not in the trade so let someone else handle on the task whilst you worry about your Christmas menu."
If you are using a retailer to take charge of the project, then installation by the 2nd week of December allows a period to get used to your new space in time for basting the turkey on Christmas morning. For those fitting themselves, then the kitchen needs to be installed by the end of November at the very latest as getting hold of tradesmen to iron out potential problems this close to Christmas is as likely as Santa filling stockings.
The final consideration when fitting a kitchen around Christmas time is cost. It's an old school thought process that suggests the best bargains are snapped up in the January sales. These are generally obsolete pre-manufactured, lower quality designs that are ultimately false economy. It can be eye watering to realise that you paid a similar amount for a discontinued flat pack as you could have done for a top quality German design manufactured specifically for you. The benchmark of wisdom is in choosing a kitchen manufacturer such as Schüller that assures top end design with consistently affordable prices. It's the right brand from a reputable independent retailer that guarantees a kitchen fit for Christmas.
For details of your nearest retailer, visit inhouseuk.net.