A sanctuary of style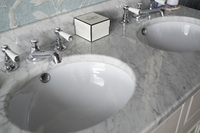 The bathroom may be a private sanctuary, but there's no reason to hide it away behind closed doors. Nowadays, the bathroom is as much a style statement as every other room in the house.
Kit Stone's Chichester range has now been extended to include solid wood bathroom cabinets, that not only look stunning, but hide away all those messy lotions and potions. Bathroom cabinets are hand painted in Old Chalk as standard to complement any colour scheme, but can be painted any one of 28 colours.
Freestanding washstands are available in several sizes and come in undermount and countertop versions. All washstands come complete with ceramic bowl.
Countertop washstands add a contemporary feel to any bathroom. Finished with beautiful oak tops, that have been treated against accidental splashing, they come in three sizes: 640mm, 850mm Open and 1240mm (double sink).
For a more traditional bathroom, Kit Stone's undermounted washstands are available in three sizes: 640mm, 960mm Curved and 1240mm (double sink). For a luxurious touch, choose a Carrara marble vanity top, and pre-drilled to fit Lefroy Double Lever Taps.
With a range of fitted bathroom base cabinets, designed to sit alongside the sink cabinet, the possibilities are endless. The bathroom collection includes mirrored and open wall cabinets, that provide extra storage and add interest. Bathroom safe wall lights, willow towel baskets and painted mirrors in a variety of sizes are also available.
Kit Stone designer, Nerine Wright comments "With the new bathroom collection, it's easy to create a stylish bathroom that's modern yet timeless, and can be designed to suit your individual requirements."
For more information, visit kitstone.co.uk.