Colourful cooking - Green kitchens make the best cooks, white the laziest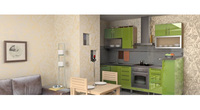 Research has found that the colour of your kitchen reveals your cooking personality - and it's bad news for owners of white kitchens, who are now seen as the laziest cooks. In fact, they are more likely to be completely inept at rustling up a quick dish and always turn to takeaways.
Meanwhile, women with green kitchens make the best cooks- researchers found that females who possess a kitchen with green hues owned more recipe books, could expertly pull off a roast dinner and prepared more meals from scratch.
Green kitchen owners have also cooked the most Christmas dinners, on average dishing up a total of nine.
The research from leading British cooker manufacturer New World shows that those with red kitchens have cooked the least Christmas dinners, and one in twenty of them have never hosted a dinner party.
Blue kitchen owners have hosted the most dinner parties, closely followed by those with green kitchens- foreign dishes like paella, chilli and curry were also a doddle for homeowners with green cooking environments.
Jane Rylands, Marketing Communications Manager for New World, which has launched a new Colours range, said: ''If you spend a lot of time in your kitchen, you need to feel comfortable in it and the colours people choose does need to be taken in to account depending on the sort of cook you are.
''This poll shows that people who opt for green kitchens have a better grasp of home cooking, but those opting for more modern colours such as black or silver may have a more modern approach.
''Who would have thought that the colour of a kitchen could dictate the owners cooking performance?''
More than a quarter of people with a black kitchens claim they can't be bothered to make meals from scratch, yet more than one in ten of them have a swanky flat screen TV in their kitchen, with 40% also owning modern integrated units.
Owners of eccentric purple kitchen were most likely to have all the mod-cons with oversized American fridges, wine chillers and high gloss units all must have items.
Those with a pink kitchen were most likely to pass off a ready-made sauce as their own, whereas a more honest 95% of yellow kitchen owners said they would never do this.
Homeowners with black, cream and red kitchens took the most pride in the way their kitchen looks and made a point of making their appliances colour coordinated.
Jane added: "We spend the majority of our time in the kitchen now and Brits are just as proud of the décor in that room as the rest of the house.
"Years ago we would all have bland wooden units and bare walls, but modern kitchens and appliances are vibrant and colourful and can be a true reflection of the person living there.
"We are starting to see more and more people wanting to inject creativity into the décor of their kitchens, which is why we created the eye-catching Colours collection which allows people to choose from a range of ovens in a rainbow of colours including metallic red, blue, green and purple."