The Chilean summer kicks off with Concha y Toro's vineyards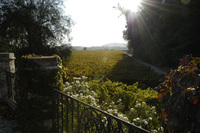 Concha y Toro's vineyards, renowned for being a top travel destination for wine connoisseurs and the biggest Latin American winery, are now luring tourists from its number one World importer market: The United Kingdom.
Latin America's largest wine producer from Chile was awarded by Trip Advisor with the 'Certificate of Excellence 2012' recognising Concha y Toro's vineries as the principal wine-tourist location in Latin America with over 150,000 visitors a year.
Concha y Toro's tourism wine centre in Pirque is the most visited one in Latin America and lies in the scenic Maipo Valley, very close to the capital Santiago (about 45 minutes drive). Its unique characteristics make the decision on what vineyard to visit quite simple. Celebrities and public figures like singer Bono, Mick Jagger, the Spanish queen and fashion designer Carolina Herrera have experienced Pirque's appeal. Historic encounters like the one with Chile's heroic miners with the Red Legends from Manchester United Sir Bobby Charlton, Bryan Robson and Gary Neville, took place last year here as well.
The Pirque complex features the old cellars and vineyards of Concha y Toro which are part of Chile's winemaking tradition and were founded in 1883 - it is now one of the most important wineries in the world, preparing to celebrate its 130th anniversary on a big stage next year.
Visitors are invited to go into the famous cellar Casillero del Diablo which originated the wine's legend. The legend says that in 1880 a devil lived in these cellars, which inspired the name of the wine. Tastings of fine wines and matching with Chilean cuisine with dishes offered by Concha y Toro's chefs at the Centre´s Wine Bar are also included.
Visits will include new attractions and investments, among these a new Casillero del Diablo themed light show, with effects created by Pascal Chautard: illuminator from the company "Limari lighting Design", leader in museum and stage lighting. Chautard participated in flagship projects such as the Cathédrale de Clermont-Ferrand in France and has won awards for lighting projects such as the main hall of the Teatro del Lago, Frutillar, with whom he won the "Comunication Design Award 2011".