Create a 'white winter wonderland' in your home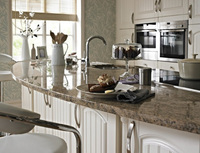 When frost glistens in the winter sunshine and our countryside adorns a wonderful white blanket of soft snow with the smooth lines of snowdrifts, we're often inspired to bring this winter wonderland into our homes.
Interior design expert from Betta Living, Jamie Dean explains why sales of white fitted furniture increase in the winter and he picks out his top kitchens and bedrooms to achieve a 'Winter White' look.
Betta Living has also just launched three exciting new white ranges Miami Cream, Pasadena White and Washington Ivory Country - showcasing the latest design trends in a white finish.
"Whatever the season, the great British public's love affair with white furniture remained steadfast in 2012. In fact, 70% of all Betta Living's kitchens sold in the UK this year were white or cream - that's 3,200 white rooms!
"In addition to being a design classic that offers unrivalled flexibility in terms of accessorising, a major draw of white surfaces is their light reflecting properties -which in a kitchen can make a small room look larger. And through winter, with shorter days, the extra light created is of great value to many people, especially those who suffer from seasonal affective disorder (SAD).
"It's undeniable that white looks great. A crisp white finish is so chic and timeless, and the perfect blank canvas to which you can add touches of colour through splash backs, walls and tiles, appliances or work surfaces."
Here's some inspiration and new designs that have just hit the stores showing how to achieve this season's elegant Winter White look in your home - it's a style that is effortlessly cool.
New for Winter 2012 - Betta Living's Pasadena kitchen shown here in a clean contemporary white finish, which combined with the attractive Zebrano wood finish and green makes for a natural outdoor feel. Betta Living's Pasadena design - from £3,690 (based on a guide lay out).
New - Betta Living's Washington kitchen in Ivory, from £3,796 for an average sized kitchen (based on a guide layout).
New - As cool as the city where it takes its name from, Betta Living's Miami kitchen is a traditional design with arched, grooved detailing on the doors.
A fresh white finishes makes Miami a popular choice this winter. Around £3,690 for an average sized kitchen (based on a guide layout).
Frosty-inspired bright whites create a crisp clean look in your kitchen. Betta Living's Denver White will deliver this season's graceful winter wonderland look, yet its design will stay fresh for years to come: Priced at £4,628 (based on a guide layout).
A great way to acquire the winter whites effect by going for a high gloss finish, seen here in the white Linear kitchen. The softly sweeping curves and no handle fronts are reminiscent of a beautiful snowdrift!
Available for £5,041 for an average sized kitchen (based on a guide layout). Design tip: Jamie Dean says: 'Keep it bright and white with chrome accessories and bring the outdoors in with natural slate walls. "
Opt for sleek wide white slab doors for impact, as featured on Betta Living's Dallas range, priced £3,588 for an average sized kitchen (based on a guide layout).
Betta Living's stunning New York kitchen combines sleek, clean lines with a popular, modern high-gloss finish. £4,250 (based on a guide layout kitchen).
Design Tip: Jamie Dean advises: "Mix white with an accent colour like green via a splashback."
Betta Living's Fitted Bedroom Bliss
White furniture will reflect light in your bedroom, creating the feeling of space as well as a scene like freshly fallen snow.
To maximise light and add extra seasonal sparkle opt for White Glass Sliding Wardrobes and feel like a snow Queen in your own home. Betta Living's sliding wardrobe doors are available from £1,328.
Betta Living's Brilliance fitted bedroom, £1,779 for a guide layout bedroom design.
Gorgeous green and winter white - lush! Betta Living's Romeo range: £1,570 based on a guide layout.
Combine crisp white with warm walnut to give you the winter wonderland look you've been dreaming of. Betta Living's Lucetta from £1,695 based on a guide layout.
Betta Living's Cassia range in white. Prices start from £1,394.
For stockists, visit bettaliving.co.uk.