Top tips for decorating your child's bedroom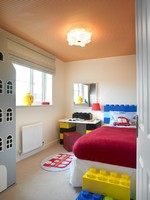 Children often get the short straw when it comes to bedrooms - they're often given the smallest one, it isn't decorated to suit their needs and changing it isn't high on anyone's agenda, except maybe the kids!
But of all the members of the family, children probably spend the longest in their bedrooms, playing and sleeping, so housebuilder Bellway Homes believes they deserve to have a comfortable, relaxing environment to call their own.
Moving is a great time to rethink how you use your rooms and Bellway has come up with a list of tips to help homebuyers get the most out of their child's room, so every member of the family is happy in their new home.
1. Think of a theme

If you keep to a unified theme then the room will look well planned and neater. Involving children in the decision making process also means they will feel more ownership over the room and will hopefully have more pride in keeping it tidy. Dragons and princes, woodland scenes, castles or a favourite cartoon character can catch a child's imagination and be used to bring together the different elements of the room.
2. Plenty of storage

This is essential because, let's face it, most children are messy and will leave their toys scattered all over the floor. A big toy box or ottoman at the foot of the bed is easily accessible and looks good. Alternatively, under the bed storage will save space, and specially designed boxes on castors are very easy to use. If storage boxes are decorated in a fun way, in keeping with the bedroom, you can make clearing up part of playtime
3. Feature bed

As bedtime is often a cause of upset, a feature bed such as a car shaped bed or bunk bed can be useful to help children to sleep. A novelty bed can persuade your child that bedtime is exciting and fun and for older children a bunk bed with a workstation underneath is ideal for homework or playtime.
4. Children's furniture

Small people need small chairs and the right furniture can be an important factor in helping your child to feel as comfortable as possible in their own space. Beanbags are cheap and good fun for lounging around and children's chairs at the correct height are a must if they need to sit at a table to work.
5. Night-lights

Many children are afraid of the dark so a night-light is the perfect solution to bedtime tears. You can get night–lights in a range of styles and designs, from simple plug in ones that give a gentle glow to beautiful lamps with familiar characters, such as Winnie the Pooh. All night-lights have to meet high safety standards but ensure you purchase a reputable make so you know it's safe to leave in the room with your young children.
6. Washable paint

We all want our little darlings to be creative but not all over their bedroom walls! Vinyl silk, satin or matt finish emulsion paints can be more cost effective than wallpaper and some are designed to be wiped clean too. Think about colour as well – traditional baby blue or pink might be your first thought, but research suggests that bright colours and bold patterns can stimulate young minds and keep small children contented.
7. Chalkboard/Corkboard

Paint-on chalkboards are brilliant for letting children be creative. Special paint can be applied directly onto the bedroom wall, which can then be used as a chalkboard, creating the focus for hours of inexpensive fun. A corkboard is also a good idea and can be used to display your children's work and pictures. Corkboards are a clean solution to the marks and tears left on surfaces by sticking paper, posters and photos to walls. But always make sure your child is properly supervised when using pins or tacks – corkboards are not recommended for young children.
8. Suitable flooring

Little hands sometimes means big spillages, so it is important to have suitable floor coverage that won't be ruined by accidents. Carpet tiles are easy to lay and replace, and cork tiles and vinyl floorcoverings are hard wearing and can be wiped clean. Rugs are also a good idea, as replacing them when they wear out is much cheaper than buying a new carpet. Rugs can also make a bedroom feel more grown up for older children and, for younger ones, rugs showing street maps are decorative and also a focus for play with toy cars.
Fraser Conn, Sales and Marketing Director at Bellway Homes, says: "Expense is the main reason parents avoid tackling their children's rooms, but a carefully selected theme with a few well-chosen and inexpensive pieces can create a stunning result.
"Above all, if parents involve their children in the decision making process when choosing the décor of their rooms it might make a difference to how they view their bedroom, and even encourage them to keep it tidy!"