Create a nursery fit for a Royal baby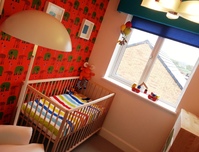 Prince William and Kate Middleton's little bundle of joy has finally arrived and while the nation celebrates the birth of the future heir to the throne, Miller Homes' team of interior design experts is helping parents across the region to design the ultimate nursery fit for royalty.
After deciding a budget parents should then choose an overarching theme, such as animals, and a colour pallet that will tie the room together. For a sophisticated nursery select a mix of colours from your chosen pallet rather than using a single shade throughout all of the fabrics and accessories.
Soft-greys complemented by accents of yellows and greens offer the perfect on-trend combination of neutral shades for a new baby's room and will help make the future transition from a nursery to a big kid's room much simpler.
Wall art displays will help add personality to a nursery and using a stencil will allow you to create a stunning feature mural that introduces the room's main theme rather than relying on expensive wallpapers.
When deciding on the layout of the nursery consider how light and sound enter the room. Avoid placing the crib in an area which receives direct sunlight in the morning or that could be disturbed by outside noise.
It is important to keep the nursery uncluttered, however new parents should never underestimate the sheer volume of storage required. Stylish storage baskets are crucial to hide micro-clutter, while streamlined tallboys are extremely practical as they offer maximum storage without taking up a huge amount of floor space. Where possible always try to incorporate dual purpose items in the nursery such as a storage chest that doubles as a seat.
Don't forget you will spend a lot of time in your new baby's room, so make sure you choose a stylish yet comfortable rocking chair – an essential item that will make soothing your little prince or princess to sleep a much more enjoyable experience.
Miller Homes currently has 10 developments located across the North East of England, including Greenvale Park in Newcastle upon Tyne, Miller @ Wyedale in Walker, Bishops Park and Park View in Gateshead, which cater for a wide variety of buyers from those looking to purchase their first home to growing families.
For more information on Miller Homes and its North East developments visit millerhomes.co.uk.