Bunga Bunga launches 'Bunga Rocks' this bank holiday Sunday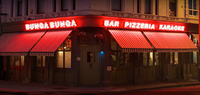 This bank holiday Sunday 25th August, will see Battersea based Englishman's Italian Bar, Pizzeria and Karaoke, Bunga Bunga, open its doors especially, for 'Bunga Rocks', a Sunday brunch spectacular to be hosted by Rockaoke. Yes that's right, in addition to their infamous party brunch hosted every Saturday, 'The Bunga Brunch', this bank holiday weekend will see a whole brand spanking new event take place all of Sunday too.
On Saturday 24th August, the classic Bunga Bunga brunch will be in full swing, complete with a four-course Italian feast, DIY Bellini kits and a matinee show unlike any other in London. There will be rousing renditions of Lady Gaga to Dolly Parton classics, their resident DJ Spider (who will buzz off the weakest karaoke singer with a Britain's Got Talent style machine), and a drag queen compere.
Then, hot on the heels of this event, Sunday will see Bunga Rocks, that will take on a brand new format, with Rockaoke bringing a whole new, larger than life meaning to the world of karaoke...
On arrival, guests will be able to enjoy unlimited metro pizzas with tongue-in-cheek toppings, such as, the 'Julius Cheeser' adorned with Gorgonzola, Taleggio, Mozzarella & Goats Cheese, 'Italy's Fun-Guy' garnished with Wild Mushroom, Pecorino, Truffle Oil and Confit Tomato or, for the crazy carni lover, the 'Italian Stallion' stacked with Prosciutto di Parma, Rocket and Parmesan. Then, to really get the party started, and wet your whistle before the karaoke contest begins, there will also be 'DIY' cocktail party kits on each table. Kits will contain a full bottle of Russian Standard Vodka (per group of four), and an unlimited Bloody Mary Mix that includes; tabasco sauce, Worcester sauce, salt and pepper, lemon juice, a small jug of red wine, fresh tomato juice and celery stalks. For those that want to sip on something a little sweeter on a Sunday there will even be a selection of fruit juices and soft drink mixers.
Two seatings will be available, the first, for the hair of the dog diehards, will be from 2-4.30pm priced at just £35 per person, and then the second, will be from 5-7.30pm, for just £45 per person. The bar will also be open throughout, so that drinkers can still have a view of the centre stage karaoke warm up to the big event. Then, from 6-8pm Rockaoke, the ultimate rockstar experience, will invite the audience to live the dream by taking to the stage and singing with a live rock band. Taking karaoke to an insanely interactive level, the best rising star will then win a special sharer cocktail prize...so that they can share the glory with band mates and new groupies alike.
For those that missed the boat with the party brunch there will even be a separate pizza buffet from 7-10pm where guest can dine out on doughy delights whilst dancing away to the latest bank holiday beats, courtesy of the Bunga Bunga DJ division, who will be taking over from 8pm till late.
The acclaimed Bunga Bunga, is owned and operated by The Inception Group, whose founders Charlie Gilkes and Duncan Stirling have also created Chelsea speakeasy Barts, 80's themed nightclub Maggie's, and this summer launched Mr Fogg's in Mayfair, a recreation of the actual home of Jules Verne's most famous adventurer, Phileas Fogg and new underground boite, Disco in Soho.
So for the Bunga Brunch experience (with a difference), make the most of your bank holiday Sunday too and rock out at Bunga Bunga
The Bunga Bunga Brunch
Saturday 24th August 2013
12pm-5.30pm
First seating: £35 pp from 11am-1pm
Second seating: £45 pp after 1pm
Bunga Rocks on Bank Holiday Sunday
Sunday 25th August 2013
2:00pm- late
First seating 2-4.30pm - £35pp
Second seating 5-7.30pm £45pp
Unlimited pizza buffet - 7-10pm - wrist bands to be purchased at the bar
Rockaoke - 6-8pm
DJ Takeover - 8pm to late
Bunga Bunga
37 Battersea Bridge Road, London, SW11 3BA
Web: www.bungabunga-london.com