easyJet's lighter aircraft takes flight from London Gatwick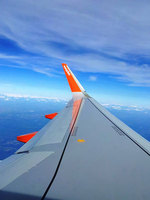 easyJet has taken delivery of an efficient new Airbus A320 plane. The design of the plane helps to improve fuel efficiency as it is the first in easyJet's fleet with aerodynamic sharklets.
In addition to this, fuel savings are also realised through a new, lighter seat and lightweight trolleys onboard. This week the plane will fly holidaymakers to the popular Greek Islands of Rhodes and Paphos as well as more far-flung destinations like Sharm el Sheikh and Hurghada.
Peter Duffy, Customer Director for easyJet, commented; "Flying the most efficient planes enables us to realise significant savings which is good news for passengers as it allows us to offer low fares – even when fuel prices are at historic highs.
"Our passengers will also notice the difference of the new, ergonomically designed seat which provides them with more space due to its clever design."
The seat, designed and manufactured by Recaro, optimises a combination of foams to provide the best comfort and support for the passenger. The backrest is at a 15 degree angle for a relaxed seating position and the slimmer backrest provides more space for passengers.
The seats are 26% per aircraft lighter than the current seats and even the new seat belts are lighter. easyJet's annual fuel bill is around £1.2bn. Due to easyJet's simple, efficient operations an easyJet passenger's carbon footprint is already 22% less than a passenger on a traditional airline flying on the same route and aircraft.