Brazil's property secures place in world top five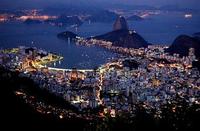 Brazilian property has secured its place in the world's top five, according to TheMoveChannel.com's Top of the Props. As FIFA draw the groups for the 2014 World Cup, there is no doubt about where Brazil's real estate is, with the country appearing in the portal's top five most popular destinations for the sixth time this year.

Brazilian Boom

Demand for Brazilian property rose to a seven-month high in November 2013, TheMoveChannel.com's latest Top of the Props report reveals. The Latin American country's booming economy has seen investors flock to the emerging market in recent years. Indeed, Brazil has frequently ranked in TheMoveChannel.com's Top 10 destinations since Top of the Props records began.

As the 2014 World Cup and 2016 Olympics draw closer, the potential for further growth has seen demand climb even higher. Brazilian property broke into the portal's top three countries for two months in a row in February 2013. Last month, Brazil accounted for 4.5 per cent of enquires, its highest share since April.

The State of the European Union

USA remained the most popular country on the site for the fifth month in a row in November, accounting for one in five of all property enquiries (20.92 per cent). Spain seized the second spot back from France, its share of activity increasing by one-quarter month-on-month to account for 6.99 per cent of enquiries. That rise was enough to see the country leapfrog Portugal into the runner-up spot, leaving French property to return to fourth place.

Portuguese property was almost as popular as Spanish real estate, accounting for 6.86 per cent of enquiries, as buyers head back to the Algarve's beaches. Italy, though, is still out of favour with investors; despite climbing one place to ninth in November from October 2013, the country is one position lower than in November 2012, as buyers continue to favour France, Spain and Portugal.
Open-Minded Investors

France, Spain and Portugal were all in the top five destinations on TheMoveChannel.com in November last year. Indeed, except for Portugal overtaking France, the top five countries were unchanged 12 months later. What has changed, though, is the share of attention, which has broadened to include less familiar markets.

America's portion of enquiries has increased from 18.42 per cent to 20.92 per cent, but Spain, France and Portugal all saw their share fall year-on-year; French property's share halved, while Spain's dropped by almost two-thirds. Instead, buyers have turned to markets such as Thailand and the Cayman Islands, both of which appeared TheMoveChannel.com's Top 10 for the fifth time in 2013.

Demand for Brazil, on the other hand, has remained steady compared to November 2012, establishing its top five position in an increasingly diverse Top of the Props chart.

Director Dan Johnson comments: "US real estate remains by far the most popular among TheMoveChannel.com investors but over the last year, buyers are increasingly moving away from a core set of familiar markets to invest in further flung destinations. 2012 was the year that saw Brazil enter the top five destinations for the first time. 2013 has seen Thailand and the Cayman Islands do the same, while Brazil has gone on to establish itself as a buyer favourite.

"Brazil's soaring real estate values and upcoming sports tournaments have made it ripe for investment. In fact, the country has only appeared outside of the Top of the Props Top 10 once in the last 30 months! The 2014 World Cup may only just be kicking off, but Brazil's ranking in the global property tournament is undeniable."