Sleep easy with a brand new Taylor Wimpey home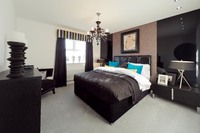 House-hunters can ensure they enjoy a good night's sleep by snapping up a stunning new-build home with Taylor Wimpey.
This month is National Bed Month and the leading housebuilder is urging would-be movers to discover how securing a brand new home could ensure the end of sleepless nights for years to come.
Purchasers will be able to enjoy a beautifully-designed, maintenance-free home, which benefits from energy-efficient heating, double glazing and insulation as standard, while also benefiting from a range of homebuyer incentives, making securing their dream home even more affordable than they might have imagined.
Mariana Knight, Regional Sales and Marketing Director for Taylor Wimpey, says: "Customers who reserve one of our fabulous new homes can sleep easy safe in the knowledge that they are eliminating all the unforeseen costs which can come with an older home.
"I would encourage anyone who is interested in finding out more about our fantastic range of new homes across the region to visit one of our developments as soon as possible."
What's more, customers who reserve a new property at a Taylor Wimpey development in the East Midlands during March will receive a brand new bed and mattress worth up to £1,000.
The housebuilder is also offering the following tips to ensure the end of sleepless nights:
Keep regular hours. Going to bed and getting up at roughly the same time, all the time, will programme the body to sleep better.
Create a restful sleeping environment. The bedroom should be kept for rest and sleep and it should be as quiet and dark as possible.
Make sure your bed is comfortable. It's difficult to get deep, restful sleep on one that's too soft, too hard, too small or too old.
Cut down on stimulants such as caffeine in tea or coffee – especially in the evening. Have a hot milky drink or herbal tea instead.
Don't over-indulge. Too much food or alcohol, especially late at night, just before bedtime, can play havoc with sleep patterns.
Deal with worries or a heavy workload by making lists of things to be tackled the next day.
Taylor Wimpey's homebuyer incentives include the Help to Buy equity loan scheme, which enables first-time buyers and existing homeowners to secure a Government loan for 20% of their new home's full price – meaning they only require a 75% loan-to-value mortgage and a 5% deposit.
For more information on Taylor Wimpey developments across the region, visit taylorwimpey.co.uk.