Find beauty in the journey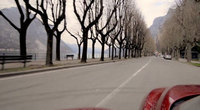 Are we nearly there yet? A familiar sound whether young or old – we're all in a hurry to get to our destination. Avis is encouraging us to enjoy the journey and capture beautiful moments we might otherwise miss along the way.

To inspire others to open their eyes, Avis is calling out for the best images caught on camera as part of a journey. Upload to Facebook where a panel of judges from Avis and photography experts Getty Images will shortlist the best photos to be voted for by the public. The winning shot will not only win a trip from BA Holidays, but it will also form part of the Avis advertising campaign to encourage others to open their eyes and see further than the destination.

Beauty can be found anywhere. Yes, cruising along a coastal road on the Cote d'Azur is full of picture postcard views, as is driving through the snow covered Alps, travelling through the ruggedly beautiful Yorkshire countryside or passing by the majestic Collosseum in Rome. Even on those less than glamorous journeys there is still splendour to be found, especially if you get off the beaten track – something often only possible when traveling by car.

If you look hard enough, you won't believe your eyes at the beauty you can see – be it a magnificent stained glass window on a building covered in graffiti, wild flowers growing on the side of a motorway, or even a stunning sunset when driving through the 'rough end of town'. Anywhere from Bognor to Biarritz or Scunthorpe to Seville, look around and you won't believe your eyes.

Andy Letting, Head of Social Media at Avis Budget Group says, "Car travel is often seen as less glamorous than other modes of transport but with the I Can't Believe My Eyes campaign we hope to show that this is not the case. Traveling by car opens up a whole world of possibilities - we want to celebrate road trips so we are calling for people to share their best driving images, to prove that how you get there can be as exciting as where you're going."

Paul Foster, Senior Director of Creative Content at Getty Images says, "We're really excited to see what beautiful imagery people will create on their journeys. Travel always inspires great photography and car journeys can often provide unforgettable experiences and cherished memories. Whether crafted and captured with professional equipment or caught by chance on mobile devices, a photo can capture these moments and engage others with the story of where you are."

Photos can be submitted from 23 April via facebook.com/AvisRentACarUK, where you can also immerse yourself in a specially made film of beautifully captured landmarks from across the globe for inspiration. So whether you're a budding David Bailey or just a snap happy camera phone user – find beauty in the journey and enter to be in with a chance of winning.

Visit avis.co.uk/cant-believe-my-eyes for more details.

#avisIcantbelievemyeyes