5 best countries for a motorcycle road trip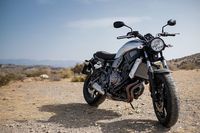 Where should you go for your next motorcycle road trip? There are so many options out there that it can be hard to narrow them down to something more manageable. While you could probably find a great motorbike route in every country on the earth, these five are the ones you will want to visit the most.
Vietnam
The great thing about Vietnam is that everyone here is on a motorbike or scooter. The city streets are full of two-wheeled vehicles, a necessity if you want to get anywhere fast. The locals are horn-happy and love to zip around larger vehicles in a way that will at first seem crazy. Out in the countryside, it's a much more tranquil experience. The scenery includes rice fields, cattle grazing lands, and small villages which will charm you on the way to desert sand dunes.
Morocco
If you want to ride somewhere where the winter doesn't bring snow, Morocco is a great choice. Go out into the desert and you can cross dry riverbeds, mule tracks, and sand dunes with abandon. Bring motocross riding gear and a bike and you can enjoy this territory all the more. Riff Mountain offers paved switchbacks, and if you prefer a cooling breeze, you will find it along the coastline. You can bet this experience won't be like anything you have experienced elsewhere, and the cities and towns offer stunning architecture as a bonus.
Cuba
It may only be an island, but that doesn't mean you will run out of road in Cuba. Classic cars are the name of the game here, so it's no wonder that the roads are fantastic for bikes too, and motorbike tours are quickly becoming a popular choice. The colourful and vibrant towns and cities are welcoming and will lure you in for a longer stay. The island lifestyle, the cuisine, the alcohol, the music and dancing – what's not to like?
Italy
It might not come to mind immediately, but Italy is home to some of the most stunning European rides out there. The Alps are the area where you will want to focus your attention. The long and winding passes tend to include plenty of switchbacks and hairpins, and you will pass through picturesque mountain villages on the way too. You can end or begin a little deeper into Italy for a city break with a difference.
Chile
When it comes to classic motorbike routes, there's one that stands out on most travellers' wishlists. When Che Guevara was a young man, he made a trip from Argentina which would shape much of his beliefs and experiences later in life, now immortalised in The Motorcycle Diaries. He travelled across Argentina to Chile, all the way up into Peru, then to Colombia, Venezuela, down again through Brazil, Bolivia, and back home to Argentina. The longest part of their journey was in Chile, so if you want to emulate a small part of it, this is the part to go for.
There are so many different countries around the world calling out for a motorcycle road trip. Start with these, and you'll be a convert for life.