Is the Lake District the UK's ultimate off-road destination?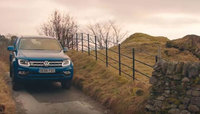 From north to south, the UK is littered with sublime natural landscapes that make for thrilling off-road pursuits. From the Perthshire off-road track in Scotland to True Grip in Kent, the options are limitless for adventure seekers looking for a challenge.
Perhaps the most spectacular place to explore however is the Lake District. Tucked along the coast of northwest England, this region spans a whopping 912 square miles and certainly packs a punch when it comes to giving off-road enthusiasts a wide range of terrains to choose from. Rocky outcrops take their place alongside wide expanses of beach and sand. There's dirt tracks, steep hills and plenty of lakes to discover, making it the ideal spot to lose yourself and fully get to grips with the off-road experience.
The area is so spectacular that Volkswagen Commercial Vehicles recently chose it as the home of their first #VWTrailbalzers challenge, in which two pairs of motor enthusiasts went for a spin in the new and improved VW Amarok. With set trials that aim to test the technical ability, precision, power and navigation of the Amarok, the Lake District is the ideal setting for a course that promises to push both driver and vehicle to their limit. Check out the video below to see how the two teams got on.
As off-roading continues to grow in popularity here in the UK, there are more and more specialist driving experiences that promise to get hearts racing, so have a look around your local area to see what you can find. It's worth noting however that going off-road without authority of the landowner is illegal, so it's always better to do your research and find a specified course that is right for you.
While we're certainly not advocating taking your car for a spin in whichever abandoned field you see fit, there's a lot to be said for leaving the bustle of city life behind and letting off some steam on a less trodden path. What are your favourite destinations for off-roading in the UK?