Gorenje launches new Simplicity Collection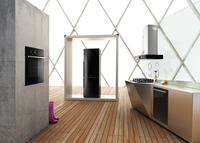 Domestic appliance manufacturer Gorenje has unveiled its brand new Simplicity collection – featuring a range of stylish appliances that operate intuitively through one single dial.
The range of black and white appliances is available from July and includes ovens, hobs, refrigerators, built-in dishwashers, microwave ovens, a washing machine and a dryer with sensor technology.
Each model in the line has been created to be simple and intelligent, with the top-end appliances featuring Adapt Tech technology which memorises patterns of use to deliver instinctive performance.
Stuart Benson, national sales manager at Gorenje UK says: "We work hard to make life simpler for our consumers and this is exactly what our new collection is all about.
"The new Simplicity collection is one of the most intelligent ranges on the market. It is not only simple to use but it also features advanced technology that adapts intuitively to suit the user."
The Adapt Tech feature works differently in each appliance. In the oven, Adapt Tech memorises popular programmes, while the Simplicity fridge uses Adapt Tech to monitor when the door is frequently opened and lower temperature in advance to ensure consistent cooling.
"The range is versatile enough to make a real style statement in any interior while each model delivers excellent performance and incredible value for money.
"I would urge anybody interested in stocking or purchasing from the Simplicity collection to get in touch for more information."

For more information about Gorenje, visit gorenje.co.uk.