Foxcroft & Ginger adds biodynamic wines to the menu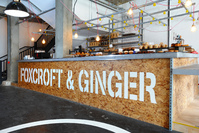 Want to feel less guilty about having a glass (or three) of wine? Artisan cafe-cum-bakery Foxcroft & Ginger has gone a step beyond organic, by offering biodynamic wines at their Soho and Whitechapel branches.
The trend for eco-friendly biodynamic wines is expanding, with London eateries such as Foxcroft & Ginger leading the way in helping to save both the planet and our livers.
The biodynamic method of making wine uses compost and herbal teas in order to create healthier vines, and the vineyard work is timed with the seasonal rhythms of the earth. Non-biodynamic wines are often made using man-made chemical pesticides and fertilisers which can endanger the creator, environment and the consumer. Biodynamic agriculture helps to enhance nutrition, quality and flavour of products and controls pests by encouraging natural predators without the need for dangerous pesticides.
The biodynamic wines on offer at Foxcroft and Ginger include white wine, La Boheme with grapes harvested by hand, and Lo Petit Fantet D'Hippolyte, a dark ruby from Chateaux Ollieux Romanis in Monseret which is fermented with natural yeasts and no added sulphur.
Foxcroft & Ginger is the lovechild of dynamic husband and wife duo, Quintin and Georgina, who spent over ten years launching successful restaurants before taking the plunge with their own creation. The artisan café and bakery also offers a specialist range of hand-made baked goods, incredible cakes, delicious brunches, sourdough-based pizza, creative cocktails and exquisite coffee. Every single ingredient is freshly made in-house, with original recipes lovingly tweaked to perfection.
Foxcroft & Ginger, 69-89 Mile End Road, E1 4TT
foxcroftandginger.com