Candy unveils stylish gas on glass hobs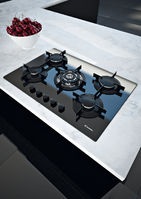 Domestic appliance brand Candy has announced the launch of a range of deluxe gas on glass hobs.
The stylish hobs have been designed to integrate neatly into work surfaces for a striking contemporary finish. Available in black, white and stainless steel, the hobs come in either 60cm or 75cm widths with four or five ring burner configurations.
Maurizio Severgnini, managing director of the Candy Built-in Division said: "The stunning new gas on glass hobs from Candy look superb and add a stylish finish to any modern kitchen.
"These hobs also benefit from excellent build quality, functionality and ease of use. We are confident the models will sell well and are proud to be bringing them to the UK market."
The gas on glass hobs are easy to wipe clean and feature ergonomic front controls for accurate temperature control. The hobs also feature pan supports sitting above the toughened glass surface.
Maurizio concludes: "The new hobs are stunning and have been designed to appeal to a range of consumers. We are thrilled that they are now available and are confident they will prove popular."
For further information, visit candy-domestic.co.uk.