Gorenje appliances make ethical best buy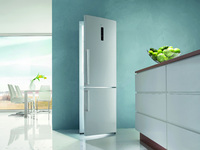 Leading kitchen appliance manufacturer Gorenje is thrilled to announce that it has scooped three Best Buy recommendations from leading environmental advice provider Ethical Consumer.
Gorenje, which has a keen focus on the development of energy-efficient technology, offers a broad collection of appliances that are up to A+++ rated.
The company's fridge-freezers, microwaves and washing machines have all been tipped as top ethical buys.
Stuart Benson, national sales manager at Gorenje UK said: "At Gorenje our primary focus is to make the best products we possibly can. Not only do our appliances efficiently use water, gas and electricity, they are truly built to last and are 90 per cent recyclable.
"Energy ratings and long-term running costs are among the primary considerations of modern buyers so the fact that such a broad selection of our appliances have been named as ethical consumer choices is fantastic news for the brand."
Gorenje recently launched a collection of IonGeneration fridge freezers which circulate negatively charged Ions to purify the air and destroy up to 95% of all bacteria, mould and odours keeping food fresher for longer and making its latest products yet more economical and ethical.
Ethical Consumer researcher Jane Turner said: "With more and more shoppers demanding that their household appliances are the most energy-efficient, we're now recommending that people choose Gorenje as this represents the best possible ethical and environmental choice."
Gorenje offers a free five year parts and labour guarantee on most built in and some freestanding products, with all other products covered by a free two year parts and labour guarantee.
Stuart concludes: "I would urge anybody looking to stock an innovative and ethical brand to get in touch to see how Gorenje can help boost sales."
For more information about Gorenje's collection of appliances, visit gorenje.co.uk.