Candy launches the Grando Vita with unrivalled rapid wash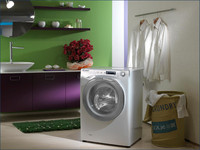 Domestic appliance manufacturer Candy has announced the launch of its brand new Grando Vita range of washing machines and washer dryers.
The range has been designed to deliver the 'Perfect Rapid 59' wash that uses the patented Mix Power System to deliver the most effective rapid wash on the market.
Candy developed the appliance after consumer feedback indicated that 86% of people were looking for a rapid wash that delivered the same wash performance as a standard wash.
Steve Macdonald, trade marketing director of Candy's freestanding division, comments: "With modern lifestyles getting increasingly busy, and consumers having less and less time to spare, it is perhaps not surprising that our feedback indicated consumers are looking for a high-performance wash from a shorter cycle.
"This is exactly what the Grando Vita delivers, using the Mix Power System to blast a concentrated mixture of clean water and detergent in the clothes to deliver the performance of a 40 degree wash at just 20 degrees. This means that the Grando Vita Mix Power System offers a 60% energy saving on a standard A-rated appliance."
The Grando Vita has been created with a large door for easy loading, the new LCD touch display is easy to programme and provides excellent clarity and a memory function that allows users to save favourite programmes that can be accessed at the touch of a button.
The Grando Vita washer dryer also offers a new record as a compact machine with large capacity – measuring just 45cm deep, the machine can wash up to 8kg of laundry and dry up to 5kg!
Steve concludes: "The Grando Vita range has been created with consumer requirements at the front of mind. This revolutionary new appliance is compact, ergonomic and all-importantly, offers the brightest, cleanest wash in just under an hour!"
Summary of Key Features:
Washing machines A+++
Start delay
16 wash functions
8kg – 10kg capacity
Multi-wash programs
Large, touch screen LED display
Mix Power System
Website: candy-domestic.co.uk