Gorenje launches A+++ rated Colour Edition fridge freezer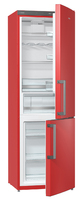 Kitchen appliance manufacturer Gorenje is thrilled to be launching a fridge freezer it is hailing as one of the most versatile, colourful and energy efficient models in the UK.
The A+++ energy rated Colour Edition RK6193 fridge freezer features the very latest in food preservation technology to significantly improve energy efficiency and maintain freshness for longer.
The model is available in white, cream, silver, black, burgundy, red and dark chocolate to help consumers make a stand-out feature of their fridge freezer.
Stuart Benson, national sales manager at Gorenje UK said: "Here at Gorenje, we firmly believe that the colourful RK6193 fridge freezer is one of the most advanced fridge freezers available in the UK.
"Not only is the model incredibly energy efficient and well built, it features extremely sophisticated Ion Air food preservation technology and comes with our trusted industry leading 5 year guarantee."
The model features Intelligent AdaptCool advanced sensor technology which keeps track of user habits for seven days, so if the consumer regularly has dinner at 7pm the model remembers and tailors its temperature accordingly. This greatly improves efficiency, leading to energy savings of up to 50 per cent.
IonAir technology meanwhile circulates negatively charged ions to purify the air in the fridge and destroy up to 95% of all bacteria, mould and odours.
Stuart concludes: "We are truly excited that the RK6193 is now available and would urge anybody interested in stocking this superb, highly interactive display model to get in touch with our friendly sales team."
For more information about Gorenje's range of appliances, visit gorenje.co.uk.