Miller Homes Midlands helps you decorate a desirable den for your little ones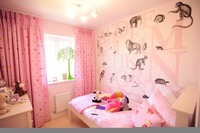 Detached family properties are proving popular with house buyers at Miller Homes South sites across the region. With this in mind, we've been asking the award-winning house builders' team of interior designers to give us some top tips on how to decorate a stylish bedroom for your children.
1. Choose a theme that can run throughout the room. Generic things like animals work well for younger children or try fairies for little girls or a nautical vibe for boys. Once you have decided on your theme you can co-ordinate colours and accessories to match, from vibrant rugs to large floor cushions and matching lampshades to give it that cosy feel.
2. If you don't want to go with wallpaper, a popular on-trend alternative is to use a stencil to create a feature mural that introduces the room's main theme. Alternatively take a look at the range of wall stickers on offer. They're easy and fun to apply and your little ones can be involved in helping you stick them up. Don't worry if they get stuck in the wrong place or they don't look right – they can be easily removed. Another idea is to try chalkboard paint. This makes a creative and interactive backdrop for any bedroom.
3. A great way to give the room real personality is to display your children's artwork on the walls alongside special photos of family members, friends and holiday memories. Try using lots of different coloured frames on one wall or put a piece of string from wall-to-wall like a washing line and peg up the artwork.
4. Simple, plain furniture is the way to go as it will last longer and your little ones are less likely to out grow a wooden white bed than a four poster princess one. A desk is an important addition to the bedroom for youngsters of any age. Younger ones will like to sit and draw and older ones can use it to do their homework.
5. Finally make sure you have enough storage for all their toys and games. In smaller rooms go for things like cabin beds with a desk underneath or if you don't fancy something so high, then large draws that fit under the bed are a perfect solution. Make sure you have lots of coloured boxes and baskets so you can store things tidily and try hanging things on wall pegs or inside cupboard doors.
Miller Homes South has developments across the region including sites in Buckinghamshire, Bedfordshire, West Sussex, Hertfordshire and Hampshire.
For more information on Miller Homes visit millerhomes.co.uk.