Britannia range selected for Prince's Foundation houses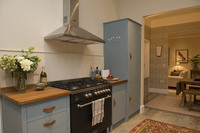 Premium kitchen appliance specialist Britannia Living is thrilled to have supplied its range cookers for use in a trio of sustainable homes being built on the Dumfries House Estate in Scotland.
Initially shown at the Ideal Homes Show in London, the homes have been transferred to the estate, which was recently visited, by Her Majesty The Queen and His Royal Highness The Duke of Edinburgh and Their Royal Highnesses The Prince of Wales and The Duchess of Cornwall.
The sustainable homes (The Baillie Scott, The Vernacular and The Family Cottage) were designed by The Prince's Foundation and aim to showcase how traditional design can still be a part of a modern eco-home. Each has been fitted with a stylish Britannia Wyre model in LPG.
Britannia Living marketing manager Michael Haigh comments: "Everybody knows that a range cooker makes the kitchen the centre of the home, but The Prince's Foundation project is helping to demonstrate that it can also become a fantastic feature of a sustainable home thanks to its quality and longevity.
"The project gave us the opportunity to showcase the versatility of our collection by supplying an LPG model which has met the needs of the brief perfectly. We are thrilled to have been specified on this high profile project."
Britannia offers a collection of four high specification range cookers including the Fleet, Wyre, Q Line and Delphi with each available in a range of widths and configurations. Models are available in any conceivable colour thanks to Britannia's bespoke Colourange colour matching service.
Michael concludes: "I would urge anybody interested in finding out more about the Britannia product range to visit our website for more information."
For further information about Britannia Living and the firm's range of appliances, visit britannialiving.co.uk.