New South African wine pairing experiences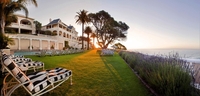 Privately owned boutique hotel Ellerman House in Cape Town's Bantry Bay has launched two tantalising new wine pairing experiences to enable guests to fully appreciate South Africa's 350 year old heritage of winemaking.
Close to all the attractions of Cape Town yet enjoying a peaceful location, spectacular Atlantic Ocean views, dramatic mountain scenery and fine beaches, Ellerman House is the ideal place to spend some time appreciating the very best wines from the world-renowned estates and vineyards of the Western Cape, together with delicious cuisine.
The property recently opened its new Wine Gallery, pictured above. More like a work of art than merely a cellar, the wine gallery provides sophisticated storage in state of the art wine racks and temperature-controlled subterranean cellars for an 8,500 strong collection of vintages and fine wines, displayed to great effect to reveal the history of South African wine. The hand-crafted nature of South Africa's finest wines and the organic shape of grapevines are reflected in the use of natural earthy materials like wood, granite and metal which has been sculpted, carbon polished, carved or left raw. Besides being an inspiring experiential space in which to taste wine, the gallery includes an interactive multi-media wine library, maturation cellars for white and red wines and a brandy tasting lounge. Another special feature is a Champagne Cellar housing rare and special vintages.
Two new wine experiences have been designed exclusively for guests by Ellerman House - the Wine & Tapas Experience and the Dom Pérignon Experience.
Wine & Tapas Experience
A daily event held in the Wine Gallery, the Wine & Tapas experience is a tailor-made wine and tapas paring, combining South African wines and delicious canapé style tapas dishes. The tasting allows guests to discover and truly experience the grape varieties in front of the Wine Gallery's Terroir Wall – a giant living puzzle that takes on the shape of the winelands with blocks of soil from 100 wineries that are housed in copper blocks. This is then followed with a pairing of 5 selected wines paired with Tapas Style Canapés. Combinations include a crispy and aromatic Cederberg Sauvignon Blanc with a fresh catch of the day, or seared Tuna Pilaf with a Elgin Pinot Noir.
Tapas with White Wine Pairing is priced at R400 (approx. £22) per person
Tapas with Red Wine Pairing is priced at R500 (approx. £28) per person
Tapas with Red and White Wine Pairing is priced at R450 (approx. £25) per person
Dom Pérignon Experience
Together with Dom Pérignon, the Ellerman House Sommelier and Chef have devised a menu to pair with this iconic Champagne. In this remarkable Champagne pairing, the different notes of Dom Pérignon are accentuated with carefully selected South African dishes, as the Sommelier guides participants through the journey. Interesting flavours and textures just as Corn Soufflé or Poached Foie Gras Tronchon are combined perfectly with the delicate taste of Dom Perignon 2003.The Dom Pérignon Experience is exclusive to Ellerman House guests only and must be booked at least one day in advance.
The Ellerman House Dom Pérignon Experience is priced at R6000 (approx. £333) per couple and includes 1 Bottle of Dom Pérignon 2003, with a Bento Box styled starter, followed by main course and dessert all created to pair with Dom Pérignon Champagne beautifully. Menu changes regularly
The Ellerman House Wine Gallery can be booked by guests for private wine dinners as well as wine tasting on request.
Ellerman House have also designed a wine App for guests to download during their stay, providing layers of detailed information about South African wines including tasting notes in synch with the wine list.
Nightly rates at Ellerman House start from R5, 500 (approx. £305). Rates include accommodation in a Classic House Room, return transfers from Cape Town International Airport and Cape Town locations within 15km radius from the hotel (subject to availability), Fully inclusive breakfast, Laundry packed in tissue paper, All beverages inclusive of spirits and beer (not wine or Champagne), Fully stocked in-room bar with luxury brands, Guest pantry (24 hour) with wide selection of snacks and in-between meal options, Daily sunset cocktails & canapés, and Wireless Internet access.
For more information, visit ellermanhouse.co.za.