Revolutionise the way you cook with induction hobs and electric ovens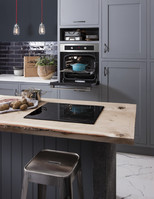 An oven can make or break a good meal, and a hob has to be one of the most frequently used built-in appliances. Get these appliances right and you're on the right path to achieving your culinary dreams. Panasonic's new induction hobs and electric ovens have been designed with functionality at the forefront, ensuring every feature will make cooking that little bit easier.
Induction Hobs for Those Who Love Good Food
If you're looking for an intuitive, well-designed hob that will deliver food consistently with ease, look no further then Panasonic's new built-in induction hobs. The KY-B64CG and KY-B64CA offer new cooking possibilities thanks to the cutting edge Genius Sensor, with touch control and a host of innovative operation functions for unprecedented cooking convenience.
Introducing the Genius Sensor
The key to perfect cooking results is temperature control and Panasonic's new hobs lead the way with the Genius Sensor. Patented by Panasonic, this technology assures precise temperature control despite the variable changes in ambient cooking conditions. So even if the temperature suddenly lowers when food is turned over or ingredients are added midway, it rapidly returns to the set temperature. To make life even easier there are 5 preset temperatures for pan frying (140/160/180/200/230°C) so anyone can cook delicious food with ease.
Going one step further, Panasonic's KY-B64CG boasts the Genius Sensor Plus, offering additional sensor functions for further convenience. For those who love a good stew, curry or pasta sauce, the low cooking temperature offered by the Genius Sensor Plus will be most appreciated as it keeps a low, stable temperature (65-120C), ensuring effortless slow cooking.
Keeping life simple, the Genius Sensor Plus also features the Autoboil function. Perfect for cooking pasta, vegetables and eggs, this function brings a pan of water to the boil with one touch. Once boiled, simply add the food item and adjust to the required power level. No need for a kettle, everything can be done on the hob, making it super convenient.
Sensor Cooking Just as You Like it
Sensor technology takes cooking to a new level, allowing users to consistently cook what they like with ease thanks to the superior temperature control. Pan frying and deep frying are effortless with these hobs as they maintain the pan at the optimum temperature for consistent results and control the temperature of the oil to provide perfect cooking results. Now you can cook what you like when you like!
Convenient and Stress-Free Cooking with Time Saving Functions
When time is of the essence, any feature that will take the stress out of cooking is going to be much appreciated. Designed with users in mind, these new hobs include a host of time saving functions such as Cooking Timer mode that counts down from a set time and switches off the zone when it reaches zero. Perfect for busy Mum's for example, users can set the casserole cooking and then sit down for a well earned rest (or tend to another chore more likely!) without the need to return to the kitchen and turn the hob off when the casserole has finished cooking. The perfect kitchen helper, if only other things in life were so simple!
Cooking dinner for guests, but they're running late? No problem, simply touch the Pause button and all active zones are reduced to level 1. When the guests arrive, simple press the button again and the hob reverts back to its original setting so dinner can be served. If you want to boost the output power to a cooking zone to reduce the cooking time, simply press the Boost function.
Designed with Families in Mind
Families will appreciate the peace-of-mind safety features such as Child Lock which disables the control panel and Auto Shut Off. The Control Panel Lock will also be a big hit with busy households as this feature disables the control panel for 20 seconds for quickly cleaning spills while cooking, without affecting the settings.
Catering for different design preferences, the KY-B64CG offers a stylish bevelled edge finish while the KX-B64CA offers a sleek flush fit. Touch controls leave the stylish top glass plate undisturbed and easy to clean. The KY-B64CG goes one step further to offer a slider touch control for easy setting with a single swipe.
Cooking Made Easy with Panasonic's New Ovens
In addition to the new hobs, Panasonic is pleased to introduce two new ovens to its built in appliance line up. Offering the quality and functionality Panasonic is renowned for the HL-CK644 and HL-CK614 are set to be firm favourites.
Telescopic Shelves
For stress free cooking, the new HL-CK644 boasts telescopic shelves that can be extended further, allowing food to be easily visible and accessible, meaning fewer burns from the hot cavity and more comfort when taking out your freshly cooked meals. Perfect for checking and turning food, users will soon wonder how they managed without these shelves! The telescopic rails are fitted onto 3 levels of standard, ensuring even big family dinners are catered for.
The Design is in the Door
Designed with families in mind, the CK644 boasts a triple glazed door which keeps the heat in the oven, making it safe to touch the glass door even when the oven is in use. The CK644 also has a soft close door assuring users that the door closes gently, safely and quietly. Cleverly designed, the soft closing mechanism absorbs any excessive force, ensuring that it closes quietly every time. A feature many families will find most welcome!
Spend Less Time Cleaning
If you'd prefer to be more of a passive cleaner than a manual oven cleaner, these news additions are right up your street. Boasting an Eco Clean Enamel Coating and Steam Clean function which softens dirt on the walls of the oven so that they can easily be wiped away with a soft cloth, cleaning these ovens is a piece of cake! Covering every cleaning angle, attention has been paid to the oven door with the CK644 and CK614 featuring a smooth door surface for easy cleaning and a removable inner door glass.
Both new additions enjoy touch and pop out dials for greater convenience. The CK614 has a mechanical dial, while the CK644 goes one step further with a digital dial. When not in use the dials provide a sleek and elegant look whilst also making it effortlessly easy to clean.
With an impressive A Energy performance, these 65 litre ovens with a host of cooking functionalities are a welcomed addition to any home.
Panasonic's new induction hobs and electric ovens are available to buy now.