Master Series huge success for Bertazzoni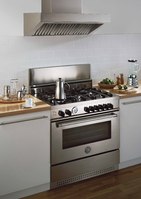 Italian kitchen appliance specialist Bertazzoni has seen sales of its Master Series range ovens soar in popularity, revealing that they now account for in excess of 50% of all UK sales.
The brand has built a strong foundation since being launched to the UK market by premium kitchen appliance specialist Britannia Living two years ago.
Jacqui Hoctor is the commercial manager for Britannia Living, the exclusive distributor of Bertazzoni in the UK. She comments "While sales have grown across the board since launch, the Bertazzoni Master Series has really taken the market by storm.
"This is one of three range cooker collections along with recently launched Built-in appliances from Bertazzoni, it offers stunning design and functionality, we are thrilled to see it do so well."
The Bertazzoni Master Series offers features for the serious cook and is available in a 90cm single and twin configuration. The range boasts a hob with five burners including a powerful 5kW dual burner, as well as nine different cooking functions across both ranges.
Jacqui concludes: "Thanks to successful TV shows like the Great British Bake Off and Master Chef we have seen a rise in the number of keen hobby chefs looking for professionally inspired appliances such as the Master Series.
"Manufactured with Italian flair, Bertazzoni range cookers are exceptionally well built and packed with industry leading features, making them standout in the showroom."
For further information about Bertazzoni products, visit uk.bertazzoni.com.