Max-Top gets beyond the surface in new installation video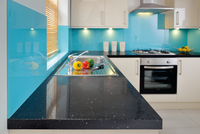 Kitchen worktop specialists Max-Top have launched a new installation video on YouTube, showcasing the ease and speed in which the revolutionary Max-Top Quartz surfaces can be fitted.
The recently launched modular quartz product features a patented interior honeycomb structure meaning the surfaces are incredibly lightweight. Max-Top Quartz offers the aesthetic benefits of a solid stone surface, but with the advantage of a deeper 40mm profile - a depth that is impractical with conventional fabrication.
The new short five minute video demonstration is packed with information detailing the preparation and installation procedure, as well as offering some top tool tips to make the process even simpler.
Stephen Moss, managing director of Max-Top comments: "We only launched Max-Top to the UK market in July this year, and it has been incredibly well received by installers, retailers and consumers alike.
"This new video should act as a brilliant resource for installers; and the product's ease of use is evident in that everything you need to know is outlined in just five short minutes."
Max-Top Quartz is Europe's leading modular quartz product, it is available in ten premium finishes, and comes with a 25 year guarantee.
Stephen concludes: "I would urge anybody interested in offering a sought-after, stylish quartz worktop, without the draw backs of traditional stone, to check out the video now or get in touch with us to find out more."
For more information visit the newly launched Max-Top website maxtopquartz.co.uk.