Gorenje+ gives more to the high street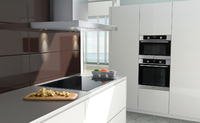 Leading home appliance manufacturer Gorenje is thrilled to be launching Gorenje+, a range of stylish, high-performance products created exclusively for UK high street retailers.
The new built-in line includes ovens, microwaves, coffee machines, warming drawers, dishwashers, hobs and fridge freezers.
Stuart Benson, national sales manager at Gorenje UK says: "This aspirational collection is being rolled out to support retailers by giving them exclusivity of a truly superb range of products that consumers will simply not be able to buy anywhere else."
Gorenje+ enables consumers to create perfectly aligned banks, columns or rows of appliances with a choice of combi, multifunctional, and steam ovens.
Stuart continues: "The excellent build quality of these technologically-advanced appliances means they are not only sleek, functional, reliable and eye-catching – but will bring a designer look that will create an aspirational finish in any kitchen."
Earlier this year Gorenje+ scooped four prestigious European Plus X award for its Gorenje+ GS 778 B steam oven.
The panel, made up of 25 industry experts, awarded the appliance for its quality, design, user-friendliness and functionality.
Stuart concludes: "We are very excited to launch Gorenje+ in the UK and would urge anybody interested in stocking this superb, innovative collection to get in touch with our sales team."

For more information Gorenje, visit gorenjeplus.com/uk.