Look as good as you feel with Betta Living's new bedroom ranges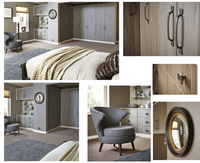 One of the key trends in bedrooms is juxtaposing materials in new and ingenious ways.

Fitted bedrooms retailer Betta Living has managed this in abundance with its stunning new fitted bedroom furniture, that cleverly combines a gloss look and feel finish but with the appearance of linen and heavily textured fabrics. Plus the brand is launching a new Art Deco inspired Valentino Curve, fusing classic opulent curves with an uber-contemporary high-gloss finish.

Each available in three colourways, the two new ranges - Aria and Adela – are brand new to the UK and offer a luxurious designer furniture feel at non-designer prices.

Aria Collection

The Aria Collection exposes a textured, upholstery pattern, applied with an acrylic gloss finish for an ultra-smooth, high-sheen look. This juxtaposition of textures offers a new look for UK bedrooms and will make you want to get touchy feely with your wardrobe doors in the bedroom!

The range is available in Calico, Graphite Black and Mocha colour ways and endless furniture options – from wardrobe doors and drawers to shelving and dressing units, all designed to fit perfectly in any shape and size of room. Prices start at £3,921 (based on a guide layout).

Stylists Tip: Why not add Betta Living's new diamante handles (launching this December) for added glamour and for a boutique-hotel look?
Adela Collection
The Adela Collection boasts a stunning deep wood grain finish that is exquisite to touch in exciting new colours.

The range updates popular wood finishes for the bedroom for 2105, moving away from long-standing effects like oak, walnut and beech to offer Champagne, Cotton and Graphite. The Adela Collection sits beautifully in both contemporary and traditionally styled rooms, and is again perfect for those looking to achieve a refined and luxurious look. Prices start at £1,951 (based on a guide layout).

Inspired by the opulence of Art-Deco furnishings, Betta Living's new Valentino Curve bedroom combines sleek curves and high gloss. This modern classic design is available in cream, white and ivory colour ways, priced at £2,151 (based on a guide layout).

To view the full collection, for showroom locations, or to arrange a free design consultation, visit bettaliving.co.uk.