C.P. Hart reveals the future of bathroom design at new-look Manchester showroom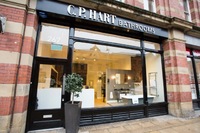 C.P. Hart has unveiled a stunning new-look Manchester showroom, showcasing UK exclusives from Karol Furniture and Marcel Wanders.
The Manchester showroom has undergone a £300,000 refurbishment to showcase a raft of new designs and exquisite displays to raise the bar on bathroom interior design in the region.
The 4,000 ft Deansgate showroom spans eight rooms over two floors and features collections from some of the finest international design houses such Adatto Casa, Artelinea, Aquamass, Axor, Dornbracht, Duravit, Gessi and Marcel Wanders. In addition, C.P. Hart Manchester introduces to the UK and exclusive to the company - Karol Furniture, Neutra Stone & Furniture and tile collections by C.P. Hart.
The showroom's centrepiece, the Bisazza Bagno Chandelier Shower Head by Marcel Wanders epitomises the new direction of bathroom interior design with its opulent stainless steel and crystal glass.
Paul Rowland, Managing Director of C.P. Hart said: "There is an exuberant feel to bathroom design right now. It's as if designers and manufacturers, constrained by the austerity of recent years, have suddenly broken free and begun to express themselves again. Inspired by this, C.P. Hart have sourced an exceptional number of new collections from around the world, introducing new brands as well as new products. We have called this new wave of interior design 'Bathroom Futures'."
C.P. Hart Manchester thus continues the premium bathroom company's reputation for showcasing products that not only create a luxurious bathroom experience but also serve as timeless design classics.
In keeping with C.P. Hart's reputation for seamless service, visitors to the impressive new-look showroom will also enjoy highly personalised support and expert advice. Customers will be meticulously guided through every aspect of the bathroom purchase experience from product selection to exceptional design direction and detailed project management.
C.P. Hart Manchester: 261-267 Deansgate, Manchester, M3 4EW. Visit cphart.co.uk for more information.