Healthy New Year: Green juice, hair of the dog, or both?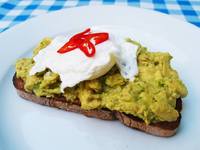 Each January, roughly one in three people resolve to better themselves in some way, with healthier eating and exercise topping the list. About three quarters stick to their goals for at least a week, but few persevere. Eating more healthily needs not be a chore, especially when the food comes from the kitchens at Megan's, the deli-café and grill in the King's Road which keeps South West London smiling with its quirky selection of home-made foods, from morning to evening. This celeb hangout on the famous King's Road is a local for the Chelsea crowd, including the stars from 'Made in Chelsea' who are regularly seen there.
Detox has never been quite so appealing or tasted so good with Megan's Green Cleanse, with cucumber, spinach and apple. Or pack a punch with the Kale Greens, with kale, cucumber, apple, mint & lemon for extra zestiness – all made on the spot, from £3.95 to £4.95. But if it's the hair of the dog you are after, maybe on a lazy Sunday morning, try a Bloody Megan, made with a top-quality spiced tomato juice laced with vodka, traditional Worcestershire sauce and garnished with celery. You can always go for Megan's Virgin Mary if you are feeling saintly, either way you still get some of your 'five-a-day'!
Superfood kale also comes as a tasty Kale & Seeds Bar for a different breakfast or snack at £2.95. Brand new for January is Megan's own version of granola, but this one is made in house using Quinoa with a mix of oats, dried fruit & seeds for a new taste sensation, and comes with either yogurt or fresh fruit at £6.95. Another breakfast-to-brunch 'green' is the gorgeous Avocado & Poached Egg Toast (£7.95) with a choice of sourdough, granary seven seeds or gluten free breads. All eggs at Megan's are free range, and the coffee is organic and fairtrade.
Even if you are dieting, you can indulge in the healthier Salad & Hot Bar for lunch – loading your plate with the daily changing selection of freshly made salads, quiches and main course items. In the evening, soak up the magical atmosphere of the garden, covered and heated in winter, and lit up by thousands of fairy lights. Here you can enjoy healthier grills, such as the Côte de Beuf for two at £39.95. All beef comes from Aubrey Allen, the renowned butcher who slowly rears grass fed cattle in the British isles.
If eating more healthily is the New Year resolution you will want to keep, make it simple and give some of Megan's delicious fare a go. Well worth a detour even if you don't live in South West London. Megan's is at 571 King's Road, London SW6 2EB.
Open Monay to Friday for breakfast 8.00 am – 11.30 am; lunch and afternoon tea 11.30 am – 17.00 pm; Restaurant grill 18.00 pm till late. At weekends breakfast 8.30 am – 13.00 pm (9.00 am – 13.00 on Sundays); lunch and afternon tea 11.30 am – 17.00 pm; restaurant grill 18.00 pm – late (closed Sunday evenings).
W: megans.co.uk